Hot Desking for Phones
8x8 Hot Desk is an add-on to your Virtual Office service plan, enabling any end-user to log into a shared desk phone as if it were their own.
Many companies are adopting hot desking to keep up with the latest work trends. Employees with flexible schedules, split shifts or those who work in multiple locations can make more efficient use of company space and resources by sharing desk space.
8x8 takes this a step further with hot desking for phones. With the 8x8 Hot Desk feature, employees log into a shared phone that immediately behaves like their own extension. They can make and receive calls, and check their messages.
8x8 Hot Desk extensions help employees have a more personalized, secure, and convenient phone experience, whether traveling to other offices or working a shift at a shared desk.
Benefits
Use 8x8 Hot Desk to help:
Add new employees without proportional increases in physical footprint and costs
Reduce your investment in facilities and phone hardware costs
Enable employees to be accessible and productive from any Hot Desk-enabled phone
Maintain the professionalism of a single office extension even in co-working or shared office situations
Ways to Use Hot Desk
Shared Office/Co-working Space: Users from different companies can leverage the same phone hardware and desk while keeping their own phone number and voicemail access.
Traveling Sales or Field Team: Sales reps can log into any Hot Desk-enabled phone while working out of different offices, maintaining ease of reach and the professionalism of having a single phone number and extension.
24/7 Call Center: Shift workers at contact centers who share the same desk but maintain separate voicemail boxes and phone numbers can benefit from Hot Desk.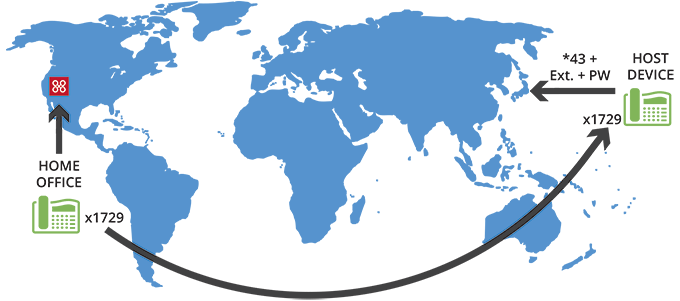 Hot Desk Features
Easily make and receive calls and retrieve voicemail: Any extension user belonging to the same PBX as the host can easily log in and out of a Hot Desk host device by just entering *43 followed by the extension number and password.
Maintain security and control: The Hot Desk host phone does not allow end-users to make or receive calls unless they are logged in as a guest. 
Make emergency calls without logging in: In case of emergency, end-users can dial out to an emergency number from a Hot Desk-enabled phone, such as 911 in North America.
Wide range of supported endpoints
8x8 Hot Desk is supported on a wide range of endpoints. See the Hot Desk User Guide for the list of supported phones.