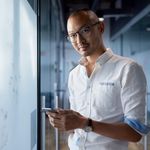 8x8 offers a full suite of services for every step of the business journey.
Professional Services
"Get the most out of your investment with dedicated global consulting and implementation support."
Support
"To ensure you get the most out of your investment, we make your success our top priority. "
Training
"Upskill and empower your teams with the knowledge and skills they need to succeed with our tools. "
Renowned businesses finding success with 8x8
By partnering with 8x8, we are able to offer our customers an innovative and cost effective communication and collaboration service. As a Gartner Magic Quadrant Leader, 8x8 was a natural choice to give our customers the level of quality and service they expect from Regus.