8x8 Launches Virtual Meeting Web Conferencing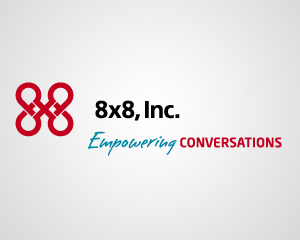 Today we launched 8x8's Virtual Meeting service, a new web conferencing solution designed to make your meetings better and more effective. 8x8 Virtual Meeting is a low-cost, web-based collaboration tool. It is accessible from any web browser and any computing platform, with no software download required. In fact, it doesn't even require a telephone since attendees can optionally speak and participate in the meeting directly through the web browser itself, though telephone dial-in access for locations throughout the United States (including toll free and international dial-in numbers in 19 countries) are supported, as well. 8x8 Virtual Meeting includes integrated voice conferencing, presentation slide sharing, desktop and application sharing, instant messaging, chair control, conference control and call recording.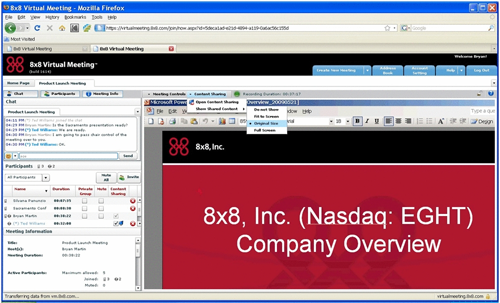 8x8 has been using the Virtual Meeting solution for several months in our corporate communications, sales and customer service organizations. Our salespeople use Virtual Meeting to do online demonstrations of our service capabilities and interfaces to prospective clients. Our support people use Virtual Meeting in order to be able to see a customer's desktop so that we can troubleshoot or configure network parameters at a router or other network element located on the customer's premise. We have also been using 8x8 Virtual Meeting to conduct many of our executive and staff meetings, especially when meeting remotely with our customer service team in Santa Maria, California, and throughout our corporate move this summer when employees were separated during the move from Santa Clara to our new corporate headquarters in Sunnyvale. We even broadcast our last earnings call and annual meeting of shareholders via 8x8 Virtual Meeting.
Starting a meeting is as simple as typing the name of the meeting in the 8x8 Virtual Meeting portal and clicking one button. Meetings can be started on the fly or to augment telephone calls that are already in progress. Overhead projectors are no longer needed to conduct a presentation since participants can follow along with application and slide content online. And webinars and other broadcast applications are simple to implement and record using Virtual Meeting's embedded recording service.
The 8x8 Virtual Meeting solution is ideal for businesses that want to save costs by minimizing travel and improve communication with the ease of an online collaboration tool. The service allows unlimited conferencing, giving users the flexibility to conduct regular meetings with employees, associates and customers in remote locations worldwide. 8x8 Virtual Meeting with unlimited online conferencing provides:
Unlimited online meetings each month for one low price
Up to 15 participants per meeting with the option to add more on a per needed basis for a minimal cost
Options for toll and toll free numbers Ability to record and play back meetings
No toll charges for 8x8 Virtual Office customers who are participants in the meetings
| | | | |
| --- | --- | --- | --- |
| Features | Trial | Virtual Meeting Month to Month | Virtual Meeting Annual |
| Price | $0.00 | $29.99 (for 8x8 subscribers) | $325 (for 8x8 subscribers) |
|   |   | $39.99 (non 8x8) | $369 (non 8x8) |
| Disconnection Fee | N/A | 30 days notice | No refunds |
| Dial In Number | 1 | 1 | 1 |
| Additional Dial In Numbers | No | Yes | Yes |
| – Local Dial In | N/A | $4.99 | $4.99 |
| – International Dial In | N/A | $9.99 | $9.99 |
| – Toll Free | N/A | $0.08/min/participant | $0.08/min/participant |
| Participant Limit | 15 | 15 (expandable up to 50) | 15 (expandable up to 50) |
| Ability to increase participants | N/A | $2.99/meeting/participant | $2.99/meeting/participant |
| Call Recording | Yes | Yes | Yes |
| Overlimit Recording | No | $0.15/min over 5hours | $0.15/min over 5hours |
| Content Sharing | Yes | Yes | Yes |
| Service Duration | 30 days | Until VM service cancellation | Until VM service cancellation |
| Support | Yes | Yes | Yes |
| Audio Conferencing | Yes | Yes | Yes |
| Web Meeting Controls | Yes | Yes | Yes |
| Corporate Directory | Yes | Yes | Yes |
| International Dial Outs | N/A | Yes, incur charges | Yes, incur charges |
| Address Book | Yes | Yes | Yes |
| Meeting administration | Yes | Yes | Yes |
| Participant Login | Yes | Yes | Yes |
| Scheduling | No limit | No limit | No limit |
For a limited time, 8x8 Virtual Meeting is available as a free trial. More information on the service can be found at
http://virtualmeeting.8x8.com/
. Try it today! Make your meetings better!