Together We Win: A Big Thank You to Our Employees, Customers and Partners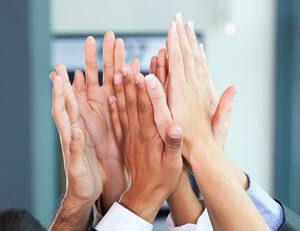 Last week we announced our FY 2016 earnings results. It was a record year for 8x8 all around, and we have much to be thankful for. I am incredibly proud of our team for everything we have achieved this year and want to thank our customers and partners for their continued support and confidence.
This past year has been transformational not only for 8x8 but for the industry at-large. Cloud communications adoption has accelerated across the board. According to IDC's U.S. Enterprise Communications Survey 2016, close to 50% of companies surveyed said they plan to implement a cloud/multi-tenant hosted Unified Communications (UC) or Unified Communications as a Service (UCaaS) solution.
Initial adoption of cloud communications started with consumers, and voice over the Internet (VoIP), then moved to SMBs and now is ready for prime time with more and more mid-sized and global enterprises deploying cloud solutions. In fact, Gartner predicts the highest growth rates for Unified Communications as a Service will come from large businesses (40-45%), followed by medium-sized businesses (25%).
In the midst of this market disruption, we find ourselves optimally positioned to meet the requirements of these large, selective and complex customers with our differentiated Enterprise Communications as a Service offering. This is a direct result of the core investments we've made in our people, products, and processes as part of a multi-year strategic focus to move upmarket.
FY16 was a stellar year for 8x8, and our team (both employees and partners) executed well across the board. I'd like to discuss a few key highlights here.
First, this year we saw strong mid-market and enterprise customer adoption. Several large companies, including Regus, NetSuite, Auto Europe and Movement Mortgage, entrusted us with their global communications needs. In the fourth quarter of FY16, our service revenue from mid-market & enterprise customers grew 54% YoY and today represents over 50% of our total service revenue. This is a testament to the shift in market tailwinds as more and more mid-market and enterprise customers are ready for cloud communications.
Our channel partners, including CDW, CSG, IP Solutions, Intelisys and Insight, also played an important role in increasing our global reach and ability to deliver world-class technologies and deployment capabilities to international customers.
In addition, in the last quarter 6 of our top 10 customers purchased our combined Virtual Office and Virtual Contact Center solutions. This is a key differentiation for 8x8, as we are the only vendor in the market today that delivers an integrated platform across unified communications and contact centers.
Second, we continued to invest in innovation. This year we delivered our new Virtual Office Meetings  HD video conferencing and collaboration solution that enables secure, continuous communication from any device, anywhere in the world. We also unveiled innovative quality management and customer journey analytic enhancements for our Virtual Contact Center solution, as well as an easy configuration tool to enhance SFDC integration. We were awarded 14 patents this year taking our total number of patents to-date to 121.
Third, we achieved scale in global deployments and broadened our presence and service delivery capabilities to support customers around the world.  I'm extremely pleased with the quality and speed of our customer deployments. We've developed tools and methodologies to expedite customer implementations and continue to make investments in this critical area. Jeff Romano, a seasoned global services executive recently joined 8x8 in the newly created role of SVP of Global Services and Support, to take our professional services to the next level.
In addition, we broadened our service delivery capabilities to support customers in 114 countries. We now have 27 international carriers, emergency calling services in 21 countries, local phone numbers in 83 countries, international toll-free numbers in 122 countries and 2 global and 15 regional end point distributors. We have the industry's largest global footprint with data centers serving customers on 6 continents, enabling low network latency and the best possible voice and video quality for a truly mobile and distributed workforce.
In summary, FY16 was a very busy and productive year for 8x8. It was gratifying to be acknowledged by top market research firms for our leadership. IHS Infonetics ranked 8x8 in the #1 position in its 2016 UCaaS Scorecard: North America for the 3rd consecutive year. In addition, we are the only vendor that is named in Gartner's Magic Quadrant for both Unified Communications as a Service (4 times a leader) and Contact Center as a Service.
As we look into FY 2017 with a steady eye, we will continue to build on this momentum and are excited and energized by the market trends and industry dynamics of the cloud communications market.
Our people continue to be our biggest asset and we look forward to solving our customers' toughest communications challenges together. This year we hired great talent in countries such as Romania, United Kingdom and Australia, (taking our total global headcount to over 1,000) and welcome them all to the 8x8 family.
Winning is about doing it together. Or as Ringo Starr said, "we get by with the help of our friends."