Q&A with John DeLozier at 8x8: Growing Up in the Channel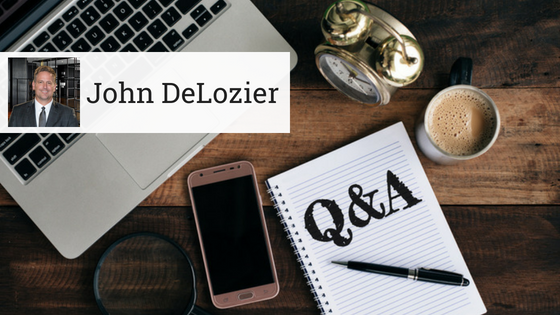 This blog post is part of a series focusing on employees making a difference in the 8x8 community.  
This week we interview John DeLozier, VP Channel. He comes to us from Centurylink where he was VP of Strategic Alliances and Partnerships.
RK: What is your role at 8x8 and what is your background?
JD: My role at 8x8 is VP Channel US. I have grown up in the Channel, since my first days with ACT to the present time with 8x8. Coming back to true UC, collaboration, and contact center in the cloud is very exciting!
RK: You have been working with channel partners for a long time. What is the one thing that channel partners can do to be successful? 
JD: Listen to the market. What that means is truly recognizing the macro opportunity, where things are going (like the Cloud), and maneuvering all people, processes and efforts towards the goal of being a leader in that space. It takes courage and is easier said than done. And of course, working with 8x8!!
RK: What is the one challenge that CIO's have now to move their on-premise PBX to the cloud?
JD: Trusting that it will be a reliable, secure solution is the key. Most CIOs know that the cloud is the right move for their UC, collaboration and contact center needs. There is just something about not seeing the gear that freaks them out. We can get past this with our team of engineers and presale professionals here at 8x8.
RK: What are your top 3 channel events to attend in 2018?
JD: Now that is not a very nice question that will get me in hot water with all of our very worthy partners! Showing up is our secret at 8x8 (ssshhhhhh). We will be part of every major, important, credible event that our partners put the hard work into forming. I will personally be attending the major trade shows every year, as well as the partners' annual events.
RK: What key skillsets do partners need to succeed in the third wave of enterprise communications driven by cloud, data and AI?
JD: Great question. The base skillset for partners is the willingness to show-up. Sounds fairly simple, right? Sometimes it is a challenge but the way partners can overcome that is by investing in the right people, constantly educate, and of course leverage your relationship with 8x8! We have key experts to get you to the cloud and beyond. 
RK: And now for rapid-fire questions for our community to get to know you a little better. Are you ready? 
JD: Let's do it!