New IP phones at Office Depot
8x8 Virtual Office just got another boost in the IP business phone space, thanks to a new collaboration between 8x8, Inc. and Aastra. Here's an article by Amy Tierney of TMCnet.
8x8, Aastra Launch Co-Branded IP Business Phones

By Amy Tierney
TMCnet Web Editor
The virtual office just got another boost in the IP business phone space, thanks to a new collaboration between 8x8, Inc. and Aastra.
8x8, Inc., the Santa Clara, California-based provider of Virtual Office and Packet8 broadband business, residential, video and mobile communications services, has partnered withAastra ( News – Alert), a global provider of communications products, to offer co-branded Virtual Office business IP phones bundled with the 8x8 Virtual Office suite. Under the partnership, Aastra will supply the co-branded 8x8/Aastra 6755i Virtual Office IP phone, while 8x8 manages the 8x8 Virtual Office hosted IPPBX ( News – Alert) service, the companies announced.
The new phone, which is available at Office Depot, can plug into any broadband Internet connection. Users can make or receive calls without any changes to the firewall or network configuration. Other features include corporate directory display and lookup, extension dialing and transfers, intercom paging, shared line appearance and an embedded XML browser.
The co-branded phone, shown below, also includes speakerphone, programmable soft key appearances and LCD display screens, and supports "Power over Ethernet." The latest model replaces the Virtual Office ST2118 analog business phone, which Office Depot previously carried. More than 16,000 companies use the plug-and-play IP devices,8x8 ( News – Alert) said.
Beyond cost savings, IP phone systems can help improve network performance, lower overhead costs and enhance worker productivity,TMC ( News – Alert) reports.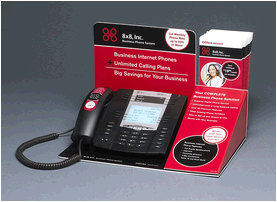 "8x8 and Aastra have experienced great synergy working together on an OEM level, and we look forward to broadening our relationship into the retail sales and marketing channel," said Tim Whittington, senior vice president and general manager, Aastra USA, in a statement. "The combination of Aastra's superior quality business IP phones together with 8x8's award winning business services, available direct to the end user through Office Depot, is a unique and compelling offer for the small and medium sized business market."
The 8x8/Aastra 6755i phone is available for an estimated price of $199.99. The new offering comes a month after Aastra announced the addition of two new models to its SIP phone portfolio, the 6730i and 6731i.
The concept of virtual offices appear to be popular, particularly in a recession, as companies look for new ways to save money.
Last fall, 8x8 announced plans to help cash-strapped businesses. It cut charges for its "Virtual Office Business Phone Service" by 50 percent for subscribers who enrolled by yearend. The company looked to broaden its reach by adding its Virtual Office Business Phone Service to the Intel Business Exchange (Intel ( News – Alert) BX) roster, an online storefront and business solutions Web site designed to help companies speed the identification procession of appropriate tools for their business.
And business appears to be healthy. As TMC reported, 8x8 recently announced a five percent revenue growth and a nearly 40 percent hike in business service growth in 2009.