Key Takeaways from Channel Partners 2018
Channel Partners 2018 brought together more than 6,000 industry experts and 275+ exhibitors. 8x8 served as a premier sponsor, and our deep involvement in the conference could not be missed. 8x8 Chairman and CTO Bryan Martin's keynote speech highlighted not only the changing direction of the industry but the innovative ways that 8x8 is addressing this "Third Wave of Enterprise Communications." Read on to learn about conference highlights, key channel partners takeaways, and successes within our partner community.
The EXperience 8x8 Lounge at Channel Partners 2018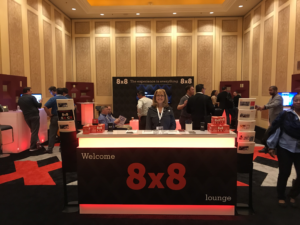 The EXperience 8x8 Lounge served as our base camp for Channel Partners 2018, and over 260 partners and prospective partners passed through during the 3-day conference. More than just a place to relax and recharge — though that was an option given the massage chairs and the 8x8 power banks we were giving away! — the EXperience 8x8 Lounge allowed us to demo our new X Series offerings before breaking out into our executive meeting room. We had over 40 successful meetings during Channel Partners, allowing our Master Agents, Distributors, VARs, and other technology partners to meet with key 8x8 leadership, like CTO Bryan Martin, VP of Strategic Channel Development Chris Peters, and new SVP of Channels and Alliances Bill Corbin.
Competing on the Basis of Customer Experience
8x8 leadership kept a high profile at this year's conference. Bryan's keynote speech, Customer Experience and the Next Wave of Enterprise Communications, kicked off an action-packed day in the Palazzo Ballroom. Highlighting the transformative power 8x8's UCaaS technology can have on the modern enterprise, Bryan noted that companies are competing on the basis of customer experience. As 8x8 seeks to transform a positive employee experience into an outstanding customer experience, our channel partners play a vital role.
Great post on @BryanMartin8x8 #CPexpo keynote by @Channel_Online @EdwardGately: Data Is 'Lifeblood' Of Effective Enterprise Communications https://t.co/UXA53Fhhb8

— 8x8 (@8x8) April 20, 2018
Chris Peters continued the channel focused theme during AVANT's panel discussion, Selling Today's Hottest IT Solutions: SD-WAN, Security, IaaS, Hyperscale & UCaaS. AVANT President and co-founder Drew Lydecker encouraged partners to "Lean Forward" and get used to "quoting at the Transport Layer while selling at the Application Layer."
Thanks to Our Partners

Forward-thinking aside, what would Channel Partners be without reflecting on past successes? Our Happy Hour at AquaKnox provided a perfect opportunity to highlight key partners. In addition to food, drinks, and introductions, we handed out awards to the following partners:
Largest Deal – Bridgepointe Technologies
Most Revenue Generated, VAR – PacketFusion
Most Revenue Generated, Master Agent – Intelisys
Most Revenue Generated, Sub Agent – CDW
Highest Year Over Year Growth, Master Agent – Avant
The conference's final day stretched well into the evening with parties around Las Vegas. Hopefully, memories were made, with the prospect of new business in the quarters to come. FY2019 promises to the be the biggest year yet for our channel, and if the success of this year's Channel Partners was any indication, we have a lot of positive momentum to build on!