Join us at IT EXPO in Ft. Lauderdale!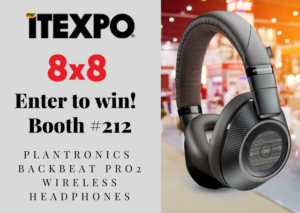 8x8 will be at ITEXPO  in Ft. Lauderdale, FL, February 8-10. Join us along with other IT professionals and business owners to talk about your business needs and how cloud communications can transform your enterprise.
Stop by and visit us at booth 212 for a first-hand experience of 8x8's leading portfolio of enterprise communications solutions, including:
8x8 executives, experts and customers will be featured in the following sessions at the event:
Matt McGinnis, 8x8, VP Product Marketing will participate in the Special General Session: Cloud UC – Innovation Awaits panel discussion on Thursday, February 9th at 9:00 am, moderated by Rich Tehrani of TMCNet.  Recently,  Paula Bernier, Executive Editor of TMC had an opportunity to interview Matt about what 8x8 does and what our participation will be at next week's IT Expo.
Also, don't miss "Leveraging the Power of the Cloud to Make People Happy" on Thursday, February 9 at 2:30pm.  WMPH's Greg Meyers and 8x8's Ken Stephens will share their insights on the following:
Considering a move to the cloud, but are overwhelmed by the task? One of the key attractions to cloud-based communications is the ability to easily integrate UC and contact center capabilities to deliver an intuitive, global, enterprise-grade solution on a single platform for all your business communications needs. Benefits include continuous communications, true mobility and remote employees, multi-device capability, personalized customer service in the contact center and advanced performance analytics, increased reliability.
Be sure to follow all the events and happenings via social media using hashtag #ITExpo.
Where in the World Can you Find 8x8 Next?
Enterprise Connect – Orlando, FL, Mar 27-30 (use discount code "8x8" to save $500 on registration)
We look forward to connecting with you in at ITExpo in Florida!