Is Your Contact Center Ready for the Future?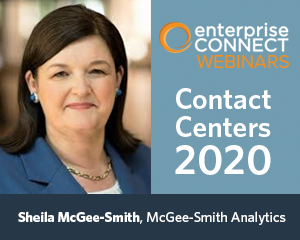 Customer experience serves as a major differentiator for your business. Customers expect to reach you in the channel of their choice, and demand knowledgeable agents capable of solving issues in a single interaction. And they expect you to use the best available technology to make their experience efficient and convenient.  
Because your contact center is so critical in acquiring customers and keeping them coming back, you want to acquire and apply the best communications technology. But innovation is accelerating, and successful contact centers need to stay ahead of the curve.
So how do companies meet the customer interaction challenges of today, while trying to figure out how to shape their contact center of the future? Fortunately, contact center experts, such as leading industry analyst Sheila McGee-Smith, can help. According to Sheila, the cloud is the future of the contact center, providing companies with new and enhanced capabilities, such as analytics, Internet of Things (IoT) and artificial intelligence (AI), to deliver the next generation of customer experience.  
See what the future of contact centers may look like by joining Sheila McGee-Smith during a live 30-minute Enterprise Connect webinar on Wednesday, August 16 at 2 pm EDT / 11 am PDT titled Contact Centers 2020: Driving Innovation in Customer Experience.