Infonetics: 8x8 #1 in a Changing Business VoIP Competitive Landscape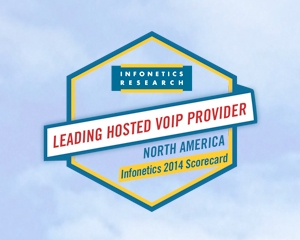 In a win that could be the first of many upsets in the unified communications arena, 8x8 moved into a "decisive" first place finish in this year's annual Infonetics Research North American Business VoIP Service Scorecard, released last week.
8x8 Ranks #1 After Making Infonetics' Top 5 for More than 5 Years
8x8 achieved its #1 rating—over West and Comcast in second and third place respectively—as a "strong and convincing leader, due to having the largest installed base of hosted seats, solid financial statements and continued executions on its service strategy." In addition, the Infonetics report predicts big changes in business VoIP and unified communications. Deals are getting bigger, as larger companies look to the Cloud to help them support increasingly mobile workforces, often distributed across regions—or even internationally.
Large, Successful Companies Are Choosing Business VoIP Now
"One important trend in the area of cloud communications is the rise of larger enterprise deals in the past eight months," writes Diane Myers, author of the report and a principal analyst for VoIP, Unified communications and IMS at Infonetics. "We continue to hear from providers of a growing interest from businesses that represent multiple thousands of seats and are evaluating hosted options. These are public and private sector firms ranging all the way up to tens of thousands of endpoints," she says. "Many of these larger deals are with organizations that are highly distributed, where the benefits of cloud across many locations is readily apparent."
8x8: Trusted Unified Communications for the Business VoIP Shakeout
But Myers also predicted a major coming shakeout in business VoIP communications. Perhaps that's a big part of the reason that this year's list saw major changes from last year's. For example, in addition to 8x8's David-vs.-Goliath upset of Comcast—last year's winner—previous top-ten companies ShoreTel and MegaPath failed to make it into the top ten, as did Nextiva, XO, Fonality and Telesphere.
Read the Rankings Before Deciding on a Business VoIP Provider
The good news is that businesses can rely on 8x8 business VoIP to support the full range of unified communications for larger, distributed organizations. Phone, fax, collaboration–even contact center service—8x8 handles it all. And although Infonetics says a shakeout in business VoIP is probably coming soon, 8x8 is a reliable choice for the long term. We've been in the Infonetics Top 5 for at least five years, and we're first in business VoIP services today. We earned our ranking by delivering a superior service that's customer focused and built to last. To see how Infonetics ranked and rated each provider, take a look at their report.