Experience 8x8 Cloud Communications at Enterprise Connect 2017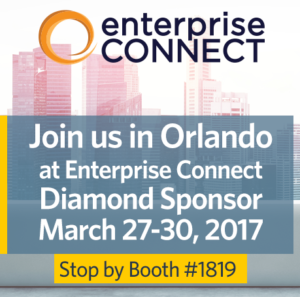 8x8 is getting ready for next month's Enterprise Connect, the premier event for enterprise communications and collaboration technology in North America, March 27-30 at the Gaylord Palms Convention Center in Orlando. This will be our best conference presence yet!  Stop by and visit us at booth 1819 for a first-hand experience of 8x8's leading portfolio of enterprise communications solutions including:
An Exclusive Global Cloud Communications Experience
See 8x8 technologies in action at our booth. In addition:
Learn how to transform your global business with open, cloud communications
Check out the latest advancements in cloud communications and team collaboration
Improve the customer journey in your contact center
Discover how to go global and mobile across a connected cloud
Deliver dramatic cost savings for enterprises of any size
Boost productivity and business insights across your organization
Also, check out the latest podcast with Bryan Martin, Chairman of the Board and Chief Technology Officer at 8x8 who shares his perspective on the industry and what's in store for the future of enterprise communications.
We'll have product and solution experts on-hand to demonstrate 8x8's latest technologies and a genius bar to explore innovative capabilities in integrated employee mobility, BYOD and distributed workplaces.
8x8's executives, experts and customers will be featured in a variety of speaking sessions throughout the week.
Here's a sneak peek of 8x8's jam-packed lineup. Mark your calendars!
---
Cloud Communications 2020: Will Enterprises Go to UCaaS — and Beyond?
Matt McGinnis, Vice President, Product Marketing
March 27, 9:00am – 9:45am
Keynote Panel: What Role (If Any) Should Cloud Communications Play in Your Enterprise?
Vik Verma, Chief Executive Officer @VikVerma8x8
March 27, 10:15am
Mock RFP: Cloud/Hybrid Cloud Communications Procurement State of the Art
Ramana Gottipati, Vice President, Product Management, Virtual Office
March 27, 2:00pm – 5:00pm
---
Market Leaders Theater: 8x8 Topic: Evolving beyond BYOD to Bring Your Own Software
Niel Levonius, Sr. Director Product Marketing
Location: Expo Hall
March 28, 1:00 – 1:20 pm
Understanding the Differences in Cloud Architectures – And Why They Matter
Mehdi Salour, SVP of Global Network & DevOps
March 28, 3:15pm – 4:00pm
---
Where is the UCaaS Industry Headed?
Bryan Martin, Chairman and Chief Technology Officer @BryanMartin8x8
March 29, 2:00pm – 3:00pm
 Customer Journey Management: It Starts with Analytics
Valerie Espie-Bourseau,  Director of Product Strategy – Virtual Contact Center
March 29, 1:00pm – 1:45pm
---
Cloud Case Studies: Making the Move to UCaaS
(8x8 Customer) Christie Nader, Vice President of Information Technology, MHM Services, Inc
March 30, 8:00am – 8:45am
For more information on 8x8 sessions, speakers, and event schedule, visit our Enterprise Connect web page.
Where & When: Enterprise Connect attendees in Orlando, Florida, at the Gaylord Palms Resort & Conference Center, March 27-30, 2017 can visit 8x8 at Booth #1819.
To save $500 off registration at Enterprise Connect, use discount code 8x8 when you register. And don't forget to join the conversation and follow the exciting activity at Enterprise Connect hashtags: #ECSUMMIT and #EC17. Follow us on the path to Enterprise Connect on Twitter @8x8 and live from the event to get real-time updates from the show floor! Stop by to say hello and be entered to win a daily prize — a $1,000 Gift Card to the Ritz Carlton Property Group. We look forward to seeing you in Orlando!