8x8 CEO Bryan Martin Tells Fox Business News Why 2013 Tech Run-up Is Different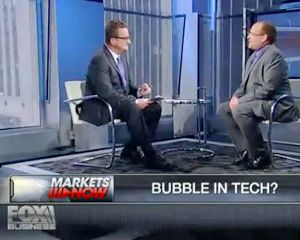 Is tech doing a little too well these days?
That's the question on everyone's minds these days, as the NASDAQ keeps hitting twelve-year highs and leading other indices into territory they haven't seen in years. This week, several business journalists sought the perspective of 8x8 CEO Bryan Martin.
As a new CEO in 2002, Martin led 8x8 through the wreckage of the 2001 tech bubble to emerge as the #1 hosted VoIP business telecommunications firm. He's experienced enough to read the warning signs, and he says tech is now tempered by experience, better business models, and more realistic leadership—and destined for an even better future.
Watch the entire Fox and Bloomberg interviews, and tell us what you think on 8x8's Facebook or Google+ pages.