8x8 Adds Android Support to Virtual Office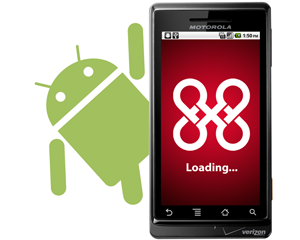 Today we announced the availability of a new mobile app in the Android Marketplace that enables 8x8 Virtual Office subscribers to use their Android-powered smartphone as a mobile extension of their business phone service.  Now any Android-powered smartphone will enjoy many of the same capabilities of any desktop Virtual Office phone in your office.
We also bundled access to the Android support, as well as our existing iPhone/iPodTouch/iPad apps, with every 8x8 Virtual Office subscription so there are no extra charges in order to enjoy mobile access to your business' phone service from 8x8.
While I am personally an iPhone user, I have been using the Android app for demos this week and have enjoyed the speed of the new app on Android and the Android operating system's native support for multi-tasking and background applications.  Our Android app runs seamlessly in the background of the phone no matter what other task you are working on.  With two phones in my pocket (and 8x8 Virtual Office Pro running in a Firefox window on my laptop), I make quite a bit of noise when someone calls my desk phone in Sunnyvale(!) and I can answer or route the call from any device.  I can also check my voicemails and (ssshhh! even make calls) on Virgin America's Gogo inflight wi-fi service, as well.  8x8's mobile apps are great tools for any business owner and especially convenient for business travelers.
We are also developing some new bundling options for 8x8's web telephony apps (in Flash) and we are already hard at work developing new features and services for all of our mobile telephony customers.  Get your business mobile today with 8x8 Virtual Office!  For more information click here.