8x8 Receives Enterprise-Ready Rating from the Skyhigh CloudTrust Program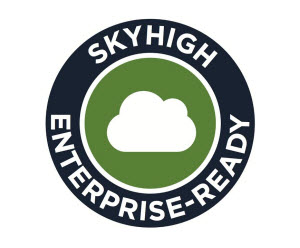 Selecting the right cloud services for your business is critical, especially with the breadth of services available today. So having an objective evaluation of a service's security controls and enterprise-readiness is an essential tool in streamlining the evaluation process and lowering risk.
Fortunately, this work has already been done when it comes to 8x8.  We've just been awarded the Skyhigh CloudTrust™ rating of Enterprise-Ready for our complete suite of unified communications, business VoIP phone service and contact contact center solutions. 
Skyhigh Enterprise-Ready cloud services are the services receiving the highest CloudTrust ratings. These services fully satisfy the most stringent requirements for data protection, identity verification, service security, business practices, and legal protection. Skyhigh evaluates these services based on a detailed set of criteria developed in conjunction with the Cloud Security Alliance (CSA).
8x8 Unified Communications & Collaboration Services are Certified Enterprise-Ready
Skyhigh evaluates thousands of cloud services and presents the Skyhigh Enterprise-Ready seal to only those services that have the highest CloudTrust rating possible. This is an important recognition that 8x8's cloud-based solutions have met the rigorous requirements that enterprises decision-makers consider when evaluating a solution.
"The Skyhigh CloudTrust Rating streamlines the evaluation process by providing an objective and comprehensive evaluation of a service's security controls and enterprise readiness," says Rajiv Gupta, founder and CEO of Skyhigh Networks.
8x8 Unified Communications Joins a Growing Enterprise Cloud 'Short List'
8x8 joins a growing number of enterprise-class cloud providers, such as Salesforce, DocuSign and Box, that are transforming the way the world works. It is becoming progressively clearer that Diane Myers, Infonetics principal analyst for VoIP and unified communications, nailed it when she predicted last year that enterprise adoption of cloud unified communications would "continue to expand and find broader adoption with enterprises of all sizes."
Big Trend: Better Enterprise Choices in the Cloud
This trend means that enterprises now have more choices when they need to expand quickly, accommodate mobile workers, and tie their offices together so that workers feel they're one company, collaborating and communicating to support the same vision.
And since cloud-based providers handle maintenance, administration and upgrades in the cloud, companies that adopt Cloud solutions can often move faster and spend less than they could if they had to host and administer their own enterprise software.
Typical is the thinking of executives such as Tim McQuillen, Chief Knowledge Officer at Rubicon Project, whose chose 8x8's cloud unified communications for its enterprise-readiness and no-maintenance appeal.
"8x8's cloud telephony services deliver the rich capabilities and voice quality we need, with almost zero IT intervention from us, says McQuillen. "Instead of maintaining hardware or software, we can focus on running the business."