8x8's September Quarter Results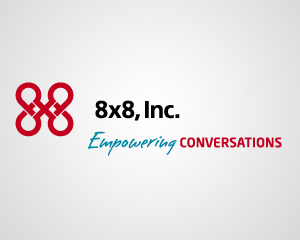 From Friday's Telephony Online, the article below summarizes 8x8's September quarter financial results.  Have a Happy Halloween, everyone!
VoIP provider 8x8's profit spikes as it climbs up-market
8x8's ( Nasdaq:EGHT) net income jumped in its second fiscal quarter (ending Sept. 30) as revenue began to grow again for the first time in a year and its operating income reached its highest level the company has seen since going public in 1997.
The results come as the company pushes its beyond its historic focus on consumers and small and medium businesses, targeting larger businesses and the federal government, both of which are showing increased interested in the kind of hosted VoIP services that 8x8 offers.
8x8 attributed the return of top line growth (albeit at a modest 3% sequentially) chiefly to increased hardware subsidies it began offering in March as part of a marketing promotion. And the 223% sequential spike in net income (to $1.3 million – a more than 2900% increase from a year earlier) resulted largely from its shifting to direct sales rather than resellers this year, growing its quota-bearing sales force by more than half, to 72 people, and cutting $249,000 from its operating expenses due to employee profit-sharing.
The economy continues to take its toll on 8x8's small-business customers. Churn resulting from financial hardship "spiked" to account for nearly half of 8x8's total churn in the quarter, the company said.
But 8x8 is landing sales to larger customers these days, thanks in part to disruption caused by Nortel Networks' bankruptcy as well as an increased focus on VoIP and hosted services due to the harsh economy. Lines per new customer have grown to 9.8 from 9.6 in the previous quarter and from 7.7 a year ago. And the company won its largest customer ever this year, an unnamed Fortune 100 company that has been ordering roughly 100 lines per month for the past five months.
"We are also seeing, for the first time ever, a markedly increased interest in hosted business telecommunications solutions from the federal government," said Bryan Martin, 8x8 CEO. In October the company cut a deal with Level 3 Communications that lets it bid jointly with Level 3 on hosting voice services as part of the Networx program administered by the General Services Administration. The two have done so twice so far (once to the Department of Justice), winning a contract to supply the Federal Maritime Commission with 155 virtual office extensions.
"It's very surprising to me the number of requests we're seeing [from the federal government] with hosting specifically being a requirement," he added. "I don't know whether to attribute that to government facing the same budget tightening cycles that the private community is. We're also seeing a lot of mobility requirements and distributed enterprise applications within these requests…We do really well where someone has distributed needs and multiple locations."
In addition to the uptic in sales to government agencies, Martin was surprised at how quickly the federal government's openness to VoIP began benefiting it from a regulatory standpoint.
"We are looking forward to capitalizing on the new regulatory positioning by AT&T to allow iPhone 3G data services to be a conduit for VoIP traffic," he said, adding that the company is currently developing an iPhone version of its Mobile Talk international dial-around service and hopes to meld that effort with its simultaneous development of new unified communications offerings. Those products should appear early next year, Martin said, adding that 8x8 is also preparing to launch high-definition voice services soon.