8x8 Live! at Customer Contact Expo 2016 in London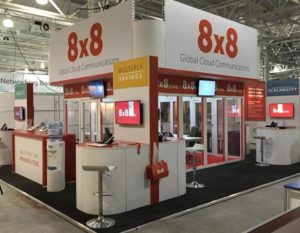 The great and the good from the contact centre industry converged in London last week for one of the most prestigious events in the contact centre calendar – Customer Contact Expo 2016.  8x8 was one of the leading exhibitors at the two-day event, both in size and stature, with one of the biggest stands there.  
But it wasn't just about size – 8x8 led the way with its innovative live mobile office, taking four members from the 8x8 sales team and setting up a working office for them at CC Expo. Due to 8x8's collaborative and flexible technology, the sales team was able to work online, talk to customers on the phone and update documents in real time, as if they were at the 8x8 head office.  And all this while visitors flocked to the stand to talk to 8x8 representatives about our Virtual Contact Centre (VCC) and EasyContactNow (ECN) products and services.okay
In addition to our 8x8 Live! office, we had eight large screens to demo all our products including as Quality Management and three wall boards, specifically to show our range of analytics tools.
This year we felt there was a real sense of purpose in the delegates.  It was particularly noticeable that those who came along had recognised the need to improve and align their communications, setting up projects to move their contact centre communications to the cloud.  Many had programmes either planned or already on the go so they were very much in need of our help, wanting to set up meetings and get going.    
David Rowlands, our Contact Centre Director, gave a keynote speech at the event on the effects of automation on the contact centre industry.  He firmly believes that in this age of automation we shouldn't write people off just yet, with technology enhancing rather than displacing contact centre workers.  Stay tuned to see more on this in a future blog post!