8x8 Celebrates Grand Opening of Romania Office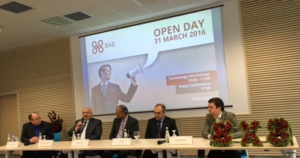 Last week, 8x8 hosted the grand opening of its Cluj-Napoca office (in Northwestern Romania), which marks its first operations and development center in Eastern Europe. During the grand opening ceremony, we welcomed more than 200 existing and prospective employees, as well as local media and officials – including the former Prime Minister of Romania and current Mayor of Cluj-Napoca.
Vik Verma, 8x8 CEO, myself and other key members of our Silicon Valley and Romanian leadership teams were on hand March 31 to discuss the company's strategy, products and services, as well as current Cluj employment opportunities and growth plans for Romania. The Cluj team also hosted onsite technology workshops. Cluj has become a phenomenal addition to our U.S., UK and Australian/APAC offices and serves as an exciting tech hub for progressive Eastern Europe. It's amazing to see that in less than six months, 8x8 has quickly grown to 45 employees in Romania, with expansion plans already in place as the count expects to more than double by the end of the year.  In fact, the local officials are billing Cluj as the "Silicon Valley of Eastern Europe" – and we are starting to see why!
8x8's Romanian Dev Center is a hotbed of innovation and research for the company and has become highly integral to our most recent contact center advancements. Today, Cluj is considered a dynamic, regional innovation center with significant business opportunities, and has become a highly respected city for technology. This includes an incubator for specialized engineering and programming talent from the local universities that breed experienced Java and C++ developers who can help evolve our customer solutions beyond those in the market today. In fact, today 8x8 has an internship program in place with The Technical University of Cluj-Napoca and The Babes-Bolyai University.
Without a doubt, the technical team we are building in Cluj will help 8x8 advance our contact center and customer experience offerings, and continue to drive our reputation as a global cloud communications innovator. In addition, the Cluj office is an essential branch for research and development in the U.S. and UK. Just a 20-minute walk from downtown, 8x8's state-of-the-art offices are equipped with six conference rooms and three relaxation rooms to help the teams collaborate effectively – and of course, the work hard/play hard mentality is in full effect!
As you'll recall, last June we announced that 8x8 acquired the assets from Quality Software Corporation (QSC) to bring a new cloud-native suite of contact center quality management capabilities  to the enterprise.  QSC was one of the newest, most innovative players in the call center performance and analytics marketplace, and now as part of 8x8, offers a powerful set of capabilities for high-touch interactions — including call recording, screen capture, live monitoring, agent evaluations, speech transcription, reporting and analytics.
Critical to the transaction was hiring QSC's Chief Executive Officer, Ryan Morrissey, as well as the company's seasoned and highly regarded development team in Cluj.  Morrissey serves as 8x8's Senior Director of Product Strategy, Cloud Quality Management Solutions, and is based in our Silicon Valley headquarters in San Jose.
Quality management and analytics are an integral part of 8x8's customer experience
strategy. Our cloud-native quality management solution was built from the ground up and is core to 8x8's overall contact center portfolio. Last month at Enterprise Connect, 8x8 unveiled its next-generation capabilities for global contact centers to optimize both the customer and agent experiences — of which quality management is a vital component.
The new quality management tools, which will be generally available in June, are easy to use and offer functionality typically reserved exclusively for large call center environments. But now, the solution can be deployed by and provide value to smaller groups within an organization— including key lines of business such as sales teams and internal help desks. The tools feature a robust portfolio of monitoring capabilities for a highly personalized experience, including a powerful multimedia timeline interface, quick search and agent scorecards.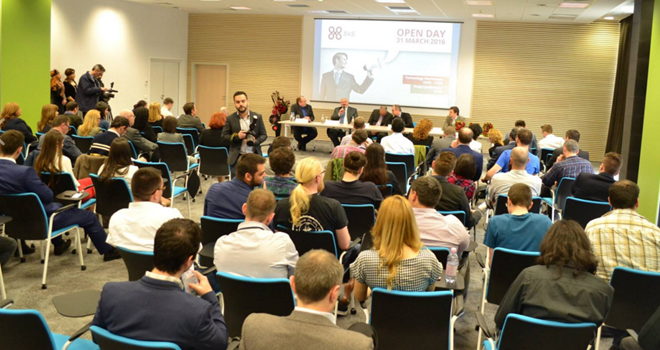 Stay tuned as we keep you updated on 8x8's exciting progress from Romania in the coming months! Learn more about 8x8's featured job openings in Cluj.