Multiply Savings
The cost of legacy PBX goes beyond budget.
Lower your total cost by up to 50 percent
Reduce the complexity of managing multiple locations
Move to one provider, one bill
Multiply Teamwork
Make collaboration easier with smart new features.
Know who's available and who isn't.
Call with a single click.
Talk, chat, or video conference with colleagues around the globe.
Multiply Mobilty
Get new features for connecting on the go.
Give people the freedom to take "office calls" from anywhere in the world.
Take calls on any devices—including tablets.
Easily move between devices during calls, chat and web meetings.
Better collaboration? Lower TCO?
Can cloud-based communications make life easier for your people and bring out your competitive edge? Get the white papers to learn more.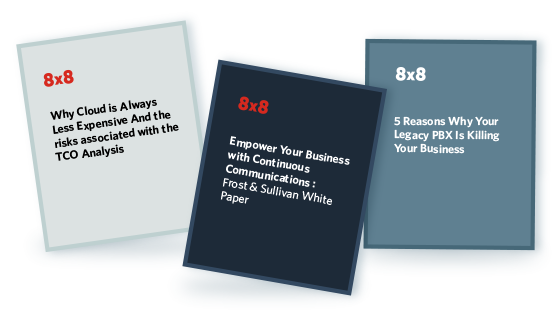 Complete the form to get your free 3-piece cloud communications kit!
Or call
1-855-465-7862

to speak with an 8x8 cloud communications solution expert now.
Here's how it works.
All your people. All your locations. All your devices.
© 2017 8x8, Inc. All rights reserved.