Transform your recruitment with a cloud communications system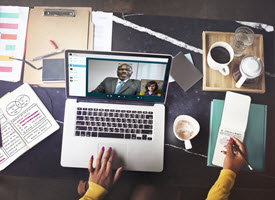 Job seekers today are pressed for time. Yet the overall hiring process is taking longer than ever before. In fact, hiring processes now take over 22 days in the U.S. and anything from 26 to 31 days in the U.K. Although this extended screening process is necessary to find the right candidate, it's also costing recruiting agencies valuable time, which in turn costs them financially.
A recent study revealed that 56% of recruiters say they can't make good hires due to lengthy hiring processes. Whilst the time it takes to place a qualified applicant is increasing, today's applicants are attracted to speedy and efficient hiring processes. This major industry challenge is forcing recruitment agencies and businesses alike to rethink hiring. To keep up with the latest trends, companies are turning towards modern day communications solutions like the cloud.
Carl Marotta, CEO at the international recruitment agency Skills Alliance says, "Working on the move and being contactable at any time is a crucial part of working in the recruitment industry. Adopting cloud communications allows us to work anywhere and has revolutionised the way our staff collaborate across the world."
Today, motivated job seekers are busy. Diary conflicts play a major role in slowing down the hiring process, but with new innovative interview tactics, finding time to talk to job candidates can be smooth and simple. Modern cloud communications systems have advanced features such as video conferencing, call recording and analytics as well as remote working capabilities to streamline the recruitment process and reduce recruiting expenses.
Tangent International discovered first hand that video conferencing has cut unnecessary travel costs, reduced the company's carbon footprint and made the recruitment process more efficient. In particular, the company found using video in the early stages of recruitment screening is an effective addition to the process.
Recruitment agencies around the world are improving their systems and functionality without interrupting service or expensive upgrades. Keep up with job seekers and source the best talent in the world by implementing a future ready communications system.