Tell Us How You Ditched Your Old Telco and You Could Win an iPad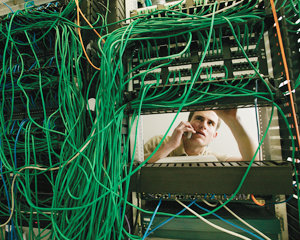 Summer is a great time for cleaning stuff out and simplifying wherever possible. We figure that our own customers are the best experts on cleaning out old PBX closets and saying goodbye to complicated, fussy antique phone systems. So we thought we'd invite our customers to have some fun with a little contest we cooked up.
How to Enter
Tell us what changed when you left your old phone carrier for 8x8. Did you save money, time or aggravation? Was it simpler? Could you do new things? After all, there must be 50 reasons to leave your telco!
Enter the contest on our Facebook page
Like us on Facebook if you haven't already. (There's a Like button on the upper right-hand corner of the entry page.)
Enter your story, click Submit, and we'll enter your name in our drawing for a chance to win an iPad. Deadline is July 15, 2013!
We'll probably share the best ones in the blog. And to those of you familiar with "50 Ways to Leave Your Lover," check out our lyrics below. But don't blame us if the song gets stuck in your head all day.


The problem's all inside your PBX she said to me, 
Wires, cables, costs and overruns, consulting and IT. 
Hosted VoIP can help you, in your struggle to be free. 
There must be, 50 ways to leave your telco.
Send it to the landfill, Jill, 
Or recycling mill, Will,
Reduce your bill, Phil, 
With voice over IP. 
Get a new app, Jack. 
With the 8x8 plan, Stan 
Fax and voicemail, Dale, 
Conference bridging for free. 

For all you businesses out there, we appreciate your pain, 
And we know that hosted VoIP could really make you smile again, 
So we're asking all our readers, could you please explain 
About the nifty ways you ditched your telco? 

Record the call, Paul. 
With HD voice, Joyce. 
The cloud is the key, Lee, 
To get yourself free.

Contest Ended on July 15, 3013. Congratulations to Andy Taylor of Taylor & Taylor Law Firm!