Ringing in the New Year with the NASDAQ Opening Bell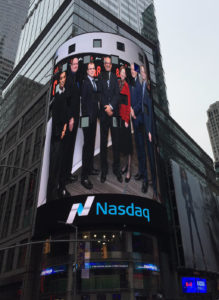 I joined 8x8 in September 2013 in part because I recognized 8x8's unique opportunity to capture a greater share of the fast-growing cloud communications market.  It was also due to my prior experience working with Vik Verma at Savi Technology. I believed in Vik's leadership and knew he could grow a successful company.
Adoption of cloud-based communications has accelerated across the board, and nearly 50 percent of companies plan to implement a cloud/multi-tenant hosted Unified Communications (UC) or Unified Communications as a Service (UCaaS) solution in the next two years.
Not only that but in a recent survey we conducted in partnership with CCNG, we found that 25 percent of contact centers have fully deployed cloud today and another 21 percent have plans to migrate within the next year. 8x8, a leader in the UCaaS and CCaaS spaces, has witnessed significant growth in this area over the last year and will continue to lead the way in providing its customers with smart and effective cloud communications.
A great testament to our growth is the recognition we received from NASDAQ to ring the opening bell on Tuesday. I joined several of my colleagues, along with a few of our customers and partners – including Simplify, WTG, Intellisys, TBI, Bridgepointe and Avant — to celebrate this milestone for 8x8.
We are excited to have this opportunity to not only reinforce our relationship with these key sales partners, but to also build enthusiasm for 8x8 as a successful Nasdaq-listed company and a leader in the cloud communications industry.  We have had solid revenue growth of over 200% over the past 5 years and a corresponding stock growth of over 300% in the same time period, with 26 consecutive quarters of profitability on a Non-GAAP basis.
I know I speak for the whole team at 8x8 when I say I'm proud of what we've accomplished over the past few years, and I'm excited to see what innovations and change we encounter in the future.