Re-defining the Meeting Experience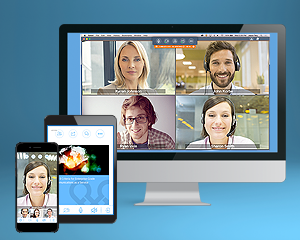 Back in the day, most people you worked with sat in the same office as you; perhaps even on the same floor. It was easy to pop over to a co-worker's desk for a quick chat or impromptu working session. But as companies grow, colleagues start to become more distributed. First, you add more floors. Then new buildings. And then you acquire another company on the other side of the globe. Of course, growth is a beautiful thing and one of the fundamental objectives of most successful businesses, but it often creates challenges for employee productivity—especially  with geographic and time zone barriers as well as departmental silos.
Unified Communications (UC) has helped to break down some of these barriers, enabling teams who are spread around the world to engage in real-time communication – like VoIP, IM/chat, video conferencing. But what it has failed to do is come close to creating those highly engaging and productive, organic interactions; those quick exchanges of ideas that morph into instant collaborative working sessions. One of the reasons is that the myriad of tools that most companies deploy simply cannot deliver the seamless communications experience that is necessary for people to collaborate effectively with distributed co-workers.
Many companies manage multiple UC solutions, meaning that end-users have multiple clients or apps that they must juggle on a daily basis—for instance, an Avaya phone system, Skype for Business (Lync) for IM/chat and presence, WebEx video conferencing, and their corporate directory is located in Microsoft Outlook. Each of these disparate solutions may work well on their own, but can you instantly transition from an IM to a video conference with just a single click? When you are already in a conference, can you invite a colleague into that meeting without having to toggle back to Microsoft Outlook? In most of these cases, the answer is a resounding no! But that's about to change.
Continuous Collaboration, Rich Mobile & Desktop Experiences
Today 8x8 unveiled a new release of its Virtual Office Meetings video conferencing and collaboration solution, a cloud-based offering that enables secure, continuous collaboration from any device, anywhere in the world. The new solution, available later this Spring, delivers a seamless communications experience that is built into our flagship Virtual Office suite. This means that the ability to start and schedule meetings and initiate impromptu collaboration sessions are now all built into one single desktop client and one single mobile app.
For example, from the Virtual Office Windows or Mac desktop client, an employee can now IM/chat with a colleague in another office, and from that same chat dialogue box, initiate an instant meeting in one click. While in the meeting, users can check the availability or presence of other colleagues with the capability to invite them into the meeting using their preferred mode of communication. What's important to note here is that all of this is accomplished within the same client and within the single meeting experience! There is no need to switch between applications.
Immersive HD Video & Audio Quality
8x8's new Virtual Office Meetings features HD Video and HD Audio to create a rich, in-person collaboration experience for users located anywhere around the globe. The high-resolution video quality supports up to 1080p on the computer/laptop and up to 720p on mobile devices. And for teammates traveling to or residing in areas with bandwidth challenges, the video quality is highly resilient—delivering an optimal meeting experience even over the public Internet or WiFi.
Another major area that has typically delivered sub-par results with traditional conferencing and collaboration solutions is mobility.  As companies grow and employees start to become much more distributed, they need to have access to more flexible working arrangements. Not only does this mean providing desktop clients so that employees can be productive on their laptops from home, but it also includes mobile apps that allow employees to collaborate effectively from anywhere on the go.
Virtual Office Meetings will enable full mobile collaboration on iOS and Android devices. Mobile users will not only be able to join meetings remotely, but also start and schedule meetings as well. What's more, mobile employees will be able to screen-share documents from Dropbox, Box, Google Drive and Apple iCloud from their mobile devices. This newly advanced mobile collaboration functionality is expected to be available later this Summer.
If your organization is scaling globally and you are ready to take your meeting experience to a whole new level with HD video and audio, read more.  And don't forget to check out today's official Virtual Office Meetings announcement where we share feedback from one of our early beta customers!