8x8 Opens The NASDAQ Stock Market!
by Joan Citelli in  8x8 News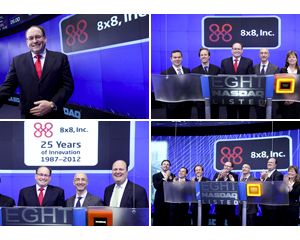 This morning, 8x8 Chairman & CEO Bryan Martin rang the Opening Bell at The NASDAQ Stock Market () in celebration of the company's 25th anniversary and 15 years continuous listing on the NASDAQ exchange. This high profile event kicks off a very busy week for 8x8 in the financial capital of the world, including investor presentations at the Oppenheimer Cloud Services Conference, the Wedbush 2012 Technology, Media & Telecommunications Management Access Conference and an investor focused cloud services demo event at the NASDAQ MarketSite.