8x8 Awarded 2016 Contact Center Technology Award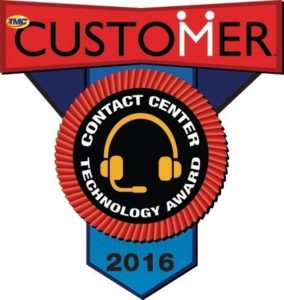 8x8 was recently awarded the 2016 Contact Center Technology Award by TMC, a global, integrated media company, for our Virtual Contact Center (VCC). The award presented by CUSTOMER Magazine celebrates VCC's innovative approach to the contact center market enabling companies to deliver world-class customer experiences.
This 11th-annual Contact Center Technology Award, honors industry leaders that have demonstrated a commitment to customer service excellence. As the recipient of this award, 8x8 is distinguished as a thought leader and market mover in the contact center and customer care industries.
8x8 VCC provides a unique and broad set of capabilities from multi-channel interactions, innovative quality management, powerful analytics that monitor and improve the customer journey, and a pre-built CRM integration tool that allows contact center managers to configure and tailor the agent and customer experience, without requiring professional services.
VCC allows companies to meet their customers on the channel of their choice and can intelligently connect customers with the best agent to solve their problems. It also provides agents with all the information they need to quickly and efficiently solve customers' issues, increasing overall customer satisfaction and reducing costs.  VCC can be integrated with 8x8's Virtual Office to allow agents to access experts across the company via chat or voice enabling them to solve complex customer problems during the first interaction.
Thank you TMC and CUSTOMER Magazine for the recognition. We are honored to be a recipient of the 2016 Contact Center Technology Award and look forward to continuing to innovate and solve enterprises' toughest customer experience challenges.