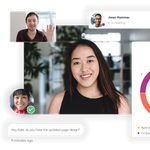 Learn everything your need to know about how to setup VoIP for your business
Learn everything your need to know about how to setup VoIP for your business
Learn everything your need to know about how to setup VoIP for your business
Learn everything your need to know about how to setup VoIP for your business
VoIP (or Voice over Internet Protocol) has been revolutionizing the way organizations communicate and conduct business. It can replace traditional telephony phone systems or add value to existing devices by extending connectivity and cutting costs per call.
When implemented correctly, VoIP services have the potential to enhance productivity by combining voice and data services, giving users more advanced features, and by being more user-friendly than their analog competitors.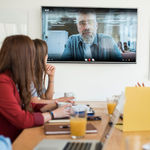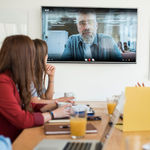 Once you've decided to migrate to a VoIP setup, it's crucial that you do your research about what you'll need to make the most out of your new phone system.
In this guide, we'll answer your pressing questions about VoIP phones and walk you through the setup process step-by-step—from picking the right hardware, to installing IP phones, testing your network connection, and choosing the right VoIP provider.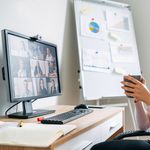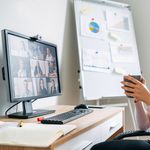 What makes a VoIP phone system different?
What is VoIP?
Voice over Internet Protocol or VoIP is a technology that allows users to make voice calls using an internet connection instead of physical landlines.
Also known as broadband phones, VoIP systems work by routing calls over the internet through an IP-based network—that's a group of computers connected via their unique IP addresses.
How does it work?
While traditional landlines transmit soundwaves using physical cables, VoIP transmits calls via an internet connection.
Landlines or fixed-line telephones work through a PSTN (publicly switched telephone network) and they require dedicated phone lines and a path between senders and receivers.
By contrast, VoIP telephones need no dedicated path and only an internet connection (through an Ethernet cable or via WiFi) to make and receive phone calls.
When making a call, VoIP phone systems take the following steps:
A VoIP phone receives data from an external device, splits it into information packets, and assigns a destination address to each one.
The converted data is moved via your broadband network to your router or modem.
When the router receives the data, it chooses the shortest path to the receiver destination.
The information packet is received at the chosen destination.
The receiving VoIP telephone system assigns the correct order to the information packets, following their designated addresses.
The VoIP user now receives the data in its recognizable form, as video or audio communication.
`
Benefits of VoIP over analog
| | |
| --- | --- |
| VoIP | Traditional phone systems |
| International phone calls and mobile calls are typically much cheaper than conventional analog phone systems. | High monthly service fees and call rates. |
| Low maintenance cost, with VoIP service providers responsible for maintaining and updating the VoIP server. | Maintenance must be conducted onsite and by a technician, increasing expenses. |
| Can be installed in minutes with low to no setup fees. | High installation fees that are charged per landline. |
| A multitude of additional features are available (like video conferencing, instant messaging, and softphone), especially when VoIP is provided through a UCaaS platform, usually at no additional cost. | Limited options for additional features, with most requiring new hardware. |
What is required for VoIP setup?
Before you get started with VoIP, it's important to note that some components of VoIP technology are only necessary for an office setup and are not required for your home. Either way, here are some of the essential components you'll need to set up a basic VoIP phone system.
A network connection
It may sound obvious, but the first step in setting up a VoIP system is to make sure you have a strong internet connection. Whether you intend to install VoIP at home or in the office, your phone service's standard connection speed should be sufficient to support your regular phone usage.
For business VoIP systems, the higher the volume of phone calls your organization makes, the more bandwidth needed to support your VoIP software. So, make sure to choose an appropriate internet plan that can support your needs to avoid business interruptions.
A router (or modem)
For home use, you can run a VoIP application straight from your computer without a specific router or modem. However, if you want to set up a VoIP server at home and use a legacy phone system, you'll need a SIP gateway to transmit your voice data from analog to digital devices.
When it comes to business phone systems, a fast router is critical for optimal functionality. Ideally, you should find one that offers speed alongside hardware compatibility and security. You should consider your required capacity and firmware based on your expected call volume.
For business VoIP or a VoIP system in office space, choose a router that supports nothing less than Wireless-N 802.11n technology and has an embedded WPA2 security protocol.
You can configure the QoS (quality of service) on your router to prioritize important traffic if you are dealing with a high volume of incoming calls or managing multiple different telephone numbers.
High-quality hardware
For general use, most VoIP platforms and applications can be used from your regular computer or smartphone.
For systems in the office and internal work calls, you may require a computer to act as a PBX server (private branch exchange server). You might also consider investing in IP phones to act as business phones for a softphone alternative.
If you intend to use home phones, a VoIP adapter can transform your traditional telephone into one that is VoIP compatible. These adapters can plug directly into your phone socket in the wall, or into your router.
VoIP or PBX software
Software solutions can make the switch to VoIP simple and quick. Nowadays, there are numerous VoIP and PBX software options to choose from, each providing a broad range of features.
For work use, consider an all-in-one or unified communications solution (UCaaS). These platforms are typically cloud-based and merge VoIP solutions with other business communications tools like video meetings, team chat, and contact center management.
A separate PBX system can also be employed for simple call handling. These work like an internal telephone network, allowing users to communicate with one another over internal lines via handsets. Cloud PBX can often be found free of charge, cutting down on your phone bills!
A VoIP provider
VoIP calling can't be set up without a specialist VoIP provider, like 8x8. Without hosted VoIP, your system will only be capable of internal phone calls. A plan or subscription will let you make external calls and can provide many additional functions.
For example, some providers offer global extension plans that cover the cost of international calling from desk phones or desktops / virtual phones (from toll-free phone numbers) to landlines in select countries.
Can I set up a VoIP server at home?
1. Turn off all devices
Yes. The first step to installing all VoIP setups is to turn off all devices involved in your telephone system.
2. Connect your VoIP adapter
Next, simply plug in your VoIP adapter. Depending on the model, this will need to be connected between the modem and your router or directly into your router. Some support WiFi, while others will need an Ethernet cable.
3. Connect your home's phone
The third step in your VoIP home setup is to connect the phone you want to use to make calls via the internet to your VoIP phone adapter. Make sure to connect your phone to the port labeled "Phone 1" or "Line 1".
Once this is done, plug the adaptor into your power supply and turn it on. To maintain an undisturbed service, your adapter must always be powered and linked to your broadband connection.
4. Turn your devices back on
When everything is connected, you can turn all your devices back on.
5. Give your adapter time to sync
Give your new adapter, router, and/or modem time to sync. Now, you should check if your adapter needs to download any firmware or relevant updates.
6. Listen for dial tone
When your adapter has completed its updates, pick up your handset (connected via the adapter) and check for a dial tone.
If you can hear the tone, your setup is complete, and you can start making VoIP calls from home.
7. Correct any issues
If you can't hear a dial tone, you might find that your VoIP phone is only capable of one-way audio. This is likely caused by an error in your VoIP-specific router setup.
To fix the issue, try connecting the adapter directly to your modem or enable DMZ on your router. Alternatively, try disabling your router's built-in firewall.
Invest in the right VoIP hardware

for your home phone or office
IP phone
As the adage goes "you get what you pay for", and this applies well to VoIP hardware. Investing in IP phones can offer greater flexibility and convenience than legacy systems. In fact, most are now wireless phones and can make calls without a base station.
IP phones are configured with a user's network address and can therefore be used for hot-desking as the information travels with the phone. They are also a great resource for lowering overheads, supported by one converged data network.
Headsets
Headsets can be corded or cordless and often support connection (via Bluetooth) to multiple devices at the same time. Much like with physical phones that support VoIP, headsets make a phone connection by compressing voice signals and transmitting them via information packets over the internet.
Analog telephone adapter (ATA)
If you'd like to use your usual analog office phone to connect calls via the internet, you can do this using an analog telephone adapter (see above for how to install one).
PoE switches
PoE (Power over Ethernet) switches or injectors are a great resource for organizations managing numerous devices. They provide power that can run to other devices via an Ethernet cable and therefore avoid the need for numerous AC adapters.
This means you can manage your central power source more efficiently and add new devices to the network easily while maintaining the quality of your transmissions.
How do I install and activate my IP phones?
To set up your 8x8 IP phones for full call handling functionality, follow this quick five-step process:
To start, plug one end of the Ethernet cable into the jack marked "LAN" on the back of your phone. Now, plug the other end into your router or an Ethernet connection.
Plug one end of the power cord into the phone and the other end into an electrical outlet. With the supplied handset cord, connect the handset to the phone.
When your phone is connected, the word "Activate" should appear on its screen. Pick up the handset or press the speakerphone button and follow the instructions given.
Next, enter the activation code that aligns with the extension number you're activating and press "#". When you've entered the code, a successful activation message should play.
Restart your telephone. After this, you should see the extension number displayed on its screen. You can now begin making and receiving phone calls.
How do I set up my VoIP headsets?
To set up a wireless headset, make sure it has one-touch enabled and connect it via the electronic hook switch (EHS). Then:
Plug the unit's AC adapter into a near outlet and that into the headset's base unit.
Attach the EHS cable to the base unit.
Plug the other end of the EHS cable into the desk phone's headset network port.
Press the call control button to check the connection and begin making calls.
For a wired headset, the process is even simpler:
Plug the headset's cable jack into the marked headset port with a direct connect cable.
Press the call control button and check for a dial tone to confirm connection.
Make a test call to make sure call quality is adequate.
Test your network connection
Once you've successfully set up your VoIP system, you should test your network connection to make sure it offers the right speed and quality of connection.
Speed
VoIP uses approximately 100 Kbps for uploads and downloads per phone line. Make sure your current provider offers sufficient gigabit speeds and check your connection with a VoIP speed test.
Reliability
You should also make sure your connection is reliable and can manage your expected call traffic. If you're using a home connection, check your DSL connection's upload speeds.
For greater reliability, it is worth switching from WiFi to a wired connection for VoIP calls. Wireless connections are often susceptible to weather conditions and other outside anomalies. If you're running large contact centers, consider wired connections to avoid interruptions to your service.
Connection quality
With VoIP, your call quality is only as good as your internet connection. Check that your network is configured correctly and that you're routing both your data and voice over the same internal network.
Pick the right VoIP provider
Available features
Picking the right provider can make the transition to a VoIP phone system a seamless process. While weighing various services consider their available features and how these might suit your needs.
For example, if you run a contact center, you might want voicemail with customizable greetings. Similarly, if you manage remote employees who work from their own devices, a system that allows users to join meetings via their web browser might be convenient.
Service plans
It's a given that price is going to be one of your main priorities when picking a VoIP provider. Alongside this, you should consider a plan that allows you to mix and match features for the most cost-effective and flexible outcome.
Whether you're looking to set up VoIP at home or in the office, a plan that's customizable and scalable will ensure that your business needs are always met.
Quality of service and support
The best VoIP providers will deliver high-quality customer support and ensure they're on hand to help promptly. If you run a multinational business, you'll want global 24/7 access to support, with dedicated resources and live chat.
You might also consider a provider that allows for phone number portability so that you can keep a phone number that your customer base is already familiar with.
Sign up and installation costs
Typically, VoIP has low sign-up costs and no installation fees. However, if you opt for more advanced built-in features like call routing, auto-attendants, and video conferencing, this could add to the expense of your service.
Pick a trusted platform that delivers advanced features at a competitive price. If you opt for a provider that allows for integrations with business tools like CRM and analytics, you can save these expenses elsewhere.
Scale up your communications with SIP
If your office has PBX, consider a SIP provider for increased scalability. SIP trunking lets you use one IP-based network for all your data transmission needs (voice, video, etc.) so you don't need to pay for more than one network.
You won't need an in-house setup to extend your capacity and maintenance costs are low, replacing expensive hardware with intuitive software options.
Test your new VoIP phones
The final step in your VoIP setup should be to check the following:
Call quality
Make sure your audio quality is consistent across devices. Check for static and other signs of low-quality audio. As a packet-based communication system, technical faults can cause packet loss and disrupt communications. Check that your system has been set up correctly to avoid this issue.
Latency
Latency is a measure of delay between the time you say something, and when the receiver hears it. Slow internet connections are often the cause of latency, as well as insufficient bandwidth.
Jitter
Jitter in VoIP means that packets of information are being sent out of order, this causes broken audio, pauses, and delays. Conduct a ping jitter test to make sure your jitter levels are within an acceptable range.
To fix issues, make sure your internet connection is stable, consider switching to an Ethernet cable if using WiFi, and change your router's QoS settings to prioritize packets over other forms of traffic.
Get started with your new VoIP system today
VoIP is an essential solution for small businesses and large corporations alike. With the ability to make voice calls using the internet, firms can reduce setup expenses, call charges, and more, all while achieving greater flexibility in communications.
Now that you've learned what it takes to set up a VoIP system, choose a trusted provider who can guide you through the rest of the process.
Contact 8x8 today to request a demo.