Cloud Work 101: What is Cloud-Based Communication?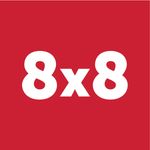 It's a brave new digital world out there. Modern offices are sleek, streamlined, and clutter-free. Most contemporary businesses no longer use fax machines, phones, physical PBX systems, bulky CRT monitors, and other legacy office tech. Instead, they used cloud-based communication systems to contact customers, suppliers, and peers.
But what is cloud-based communication? Is it an essential part of the 21st century enterprise? We'll explore these questions, and more, in this brief guide.
What exactly is cloud-based communication?
In short, cloud-based communication happens via the internet. Data transmission, phone calls, and other types of telephony travel through a third-party hosting service — the 8x8 platform, for instance — instead of your local telephone line. Text messages, voice conversations, video chats, and other communications all take place on cloud-hosted technology.
Types of cloud-based communication
We've defined cloud-based communication. Now we'll explore four different internet-based communication products in a little more detail: cloud phone, video conferencing, team chat, and business fax.
Cloud phone
Cloud phone is essentially a cloud-based PBX for small businesses. Cloud-based VoIP is easy to use and much cheaper than setting up an in-house VoIP system. Cloud-based phone systems for businesses usually include features like call handling, call management, visual voicemail, and helpful analytics.
Video conferencing
Video meetings bring teams together. Business-centric video conferencing services include meeting apps for on-the-go teleconferencing, as well as software integrations for your existing system. Video conferencing solutions should be security compliant to maintain confidentiality — so look for trusted third-party certifications.
Team chat
Unified messaging helps to boost productivity across the board. Team chat enables seamless text-based communication, so information travels across departments — and across your entire company. Providers like 8x8 offer a unified app for desktop and mobile, so chats keep flowing no matter where your employees are located.
Business fax
Fax machines are no longer de rigueur, but faxes are still part of the business communication landscape — especially if you operate internationally. Cloud-based fax services let you send documents straight from your computer instead of via a physical fax machine.
Advantages of cloud-based communication
There are many advantages to adopting cloud communication. For a start, cloud-based communication is considerably cheaper than traditional telephony. Here are five more cloud communication benefits:
Productivity-boosting tech:

Teams and individual employees use a number of sleek communications tools to keep information flowing.

Flexible options:

Select a communications suite or pick the products that benefit your business the most.

Increased mobility:

Remote and on-site workers both use the same cloud-based system, so you maintain a cohesive workforce.

Professional features:

The right cloud-based communication options give your SMB a competitive edge in the marketplace.

Client satisfaction:

Intelligent call routing and information sharing helps to improve the customer experience.
In conclusion, cloud-based communication really is an essential part of modern business. If you're still using a lot of legacy equipment in the office, a cloud-based communication suite could help you declutter.
Here at 8x8, we help small, medium, and large businesses expand into the cloud every day. We offer a wide range of quality cloud communication solutions, including a hosted all-in-one communication platform. If you want to know more about cloud-based communication, request an 8x8 quote online or call us at 1-855-444-8571 for a no-obligation chat with one of our experts.
---