646 Area Code: What You Need to Know

646 Area Code
Manhattan is often referred to as "the City" by the residents of New York. It has big-name attractions like Central Park and the Empire State Building, renowned museums, charming blocks, thousands of restaurants, hidden green spaces and the bright lights of Broadway.
A popular New York City area code with businesses, area code 646 represents the phone numbers in a wide variety of different industries such as financial services, technology, fashion, broadcast television and more.
The area code 646 represents a variety of numbers in Manhattan, New York. The area code covers landlines, as well as wireless Voice over Internet Protocol (VoIP) subscribers. Businesses can register a phone number in the 646 area code for use with New York-based clientele or present a local New York presence.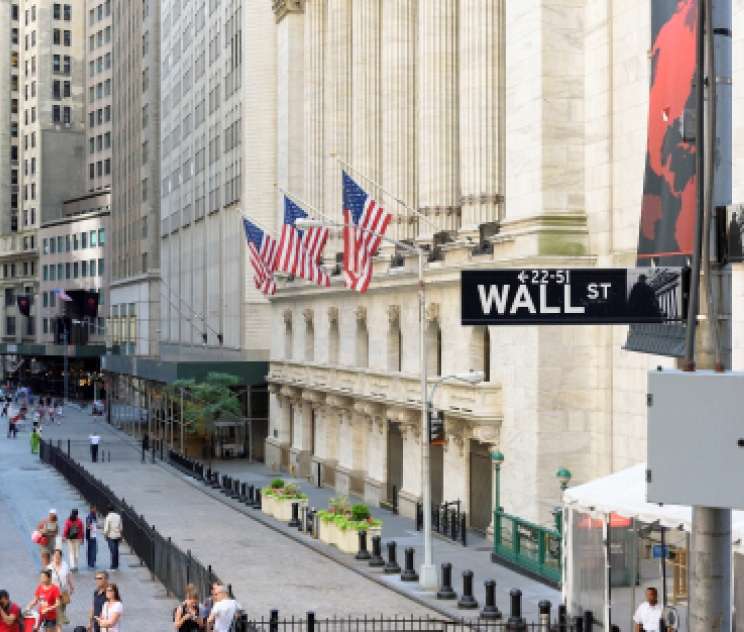 646 Area Code at a Glance
New York City is one of the world's major financial centers, home to multinational corporations and banks. It's also the location of the New York Stock Exchange (NYSE), which draws financial traders, investors and a multitude of workers. It's also home to many creative industries like advertising, media, and fashion. Getting a business phone number in the 646 area code places your organization's communications presence where these companies and industries are. For reaching local customers or giving your company the image of a New York-based organization, having a 646 area code is valuable.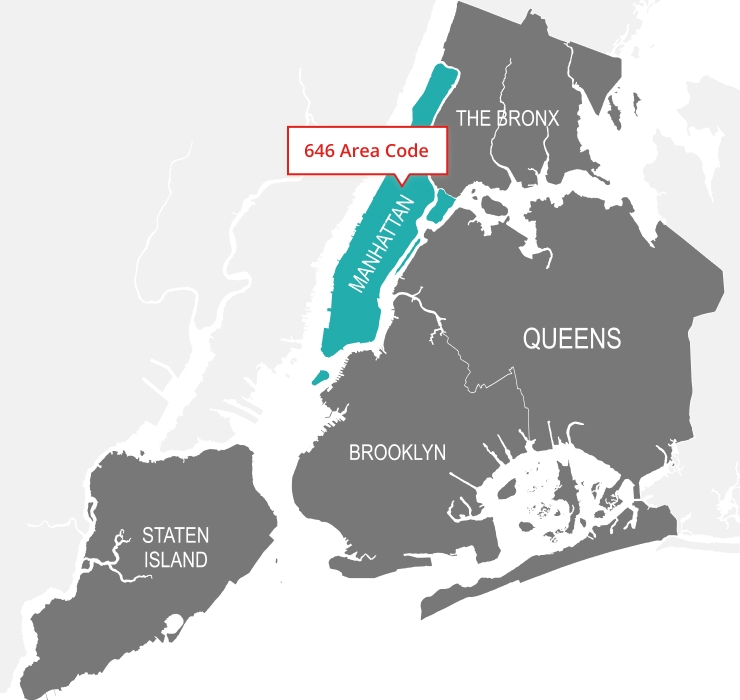 646 Area Code Location
Between 1999 and 2017, Manhattan residents were given the 646 area code when the area code 212 ran out of numbers. Now, new subscribers in the Manhattan area get the area code 332.
Residents and businesses hold most 646 numbers in the Manhattan area. The 646 area code overlaps parts of the Bronx, Brooklyn, Queens, and Staten Island, which have area codes 212, 332 and 917, respectively.
As for a landline or cell phone, you'll need a local account to get this area code. However, VoIP (Voice over IP) lets you register with a 646 area code phone number even if you're not local.
How to call a 646 Area Code Phone Number
Here's how to make a phone call to a 646 area code phone number:
Dial 646, the New York area code.
Dial the 7-digit phone number

Area Codes Near the 646 Area Code
Why Should I Get a 646 Area Code Phone Number For My Business?
The 646 area code serves the Manhattan area in New York, USA. If you are a business, looking to break into the Manhattan market, it's crucial to have a local phone number that customers recognize and can call without paying for long-distance. A local phone number with a 646 area code will help you get your foot in the door.
Benefits of Local Area Code Phone Number with 8x8
A Local number can give you powerful features like extensions, call queue, ring groups, or auto attendant. This type of number sends callers to a specific extension, rather than a device or phone. 8x8 provides you with added flexibility when using your virtual phone number.
Here are a few benefits of an 8x8 local phone number for Manhattan, New York:
Reduce Phone Bills
A local phone number can reduce long-distance phone service charges.
Local Business Presence: Virtual numbers with a specific area code give you a local presence.
One Number, Many Phones: Use one phone number for calls and text messages across many devices.
Easy Processing: Choose a business number and setup where you'd like to call your customer.
More Features: PBX features such as voicemail, call forwarding, extensions, and more.
Equipment: No extra equipment is required with a virtual number.
Get your 646 Area Code Local Phone Number with 8x8 Express
Get a 646 area code phone number and make the right impression with the 8x8 Express Business Phone System. 8x8 Express provides you with unlimited calling, HD audio and video conferencing, business SMS and more. Start your free 30-day trial today!
About 8x8
8x8, Inc. (NYSE: EGHT) is the trusted global provider of secure and reliable cloud-based unified communications and contact center solutions to more than 50,000 businesses, operating in over 150 countries across six continents.
8x8's out-of-the-box cloud solutions replace traditional on-premises hardware and software-based systems with a flexible and scalable Software as a Service (SaaS) alternative, encompassing communication and team collaboration tools and enterprise-ready contact center solutions - in one secure, reliable unified communications platform. 8x8's innovative, the enterprise-grade global network enables any business to put its real-time communications in the cloud and reap the benefits of one integrated platform for all business communications.