Virtual Office Analytics: Essentials
Get detailed reporting on all extensions in your organization including active calls, abandoned calls, talk time, ring time, call detail records and more.
Actionable insights on your whole company's call activity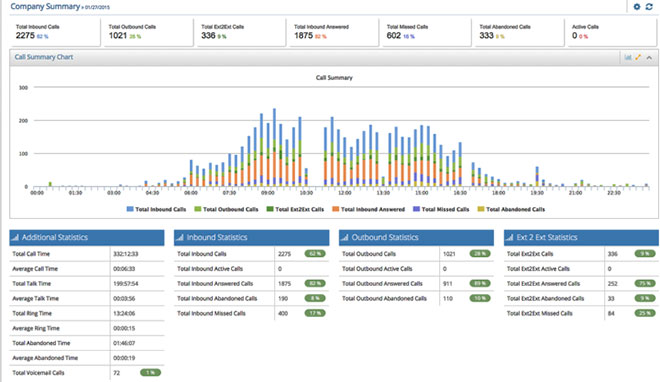 Virtual Office Analytics Essentials provides a set of unique dashboards and reporting options for all extensions in an organization's 8x8 PBX:
Company Summary Dashboard—See a consolidated view of numerical and graphical details about call activities and metrics for any dates selected.
Extension Summary—View more than 20 selectable columns of detailed information of all call activity on any and all extensions.
Call Detail Records—Get historical information about all calls processed in the selected timeframe, including real-time missed and abandoned call details for quick call-back—to keep from missing leads or customer service opportunities. You'll also see the caller's entire customer journey throughout the organization, including call transfers—to help increase customer satisfaction.
Active Calls—See real-time information about all calls currently being processed within the organization. Details include the caller's journey throughout the organization up to that point.
Unreturned Calls—Match inbound calls to outbound calls to find unreturned calls within the date range selected.
Calls by DID—Select and view detailed information for all direct inbound numbers (DIDs).
Watch this quirky 88-second video for a fun and memorable demo!
Check out our videos on Virtual Office Analytics Supervisor and Virtual Office Analytics Service Quality.