Switchboard Pro for Virtual Office
Equip the primary answering position for the entire company or branch office with a powerful switchboard software app that greatly streamlines live call handling and enhances visibility of the "presence" of each employee in the organization.
Switchboard Pro is an optional add-on feature for Virtual Office business phone service.
Switchboard Pro's sophisticated call processing capabilities and insights allow you to more efficiently handle both internal and external caller's needs in getting to the right resources quickly. This browser-based software works in tandem with a Polycom IP phone.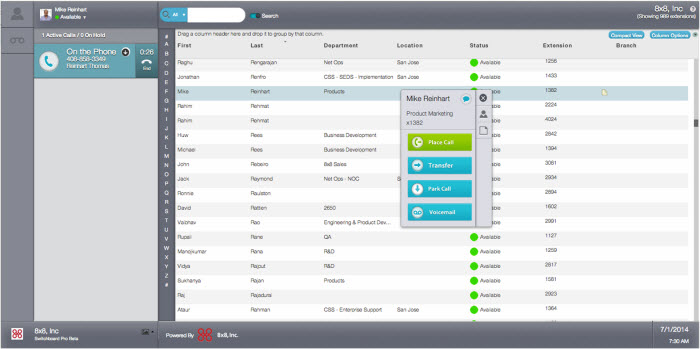 Switchboard Software Features
Easy-to-Use
Minimal experience and training required.
Works with a computer and 8x8-provided Polycom IP phones.
Simple point-and-click management of all calls.
Unlimited search and sorting capabilities to quickly find any user or extension.
Click to dial any extension.
Increased Visibility and Productivity
At-a-glance view of the presence and availability of every user in the organization or branch.
Chat function improves communication and collaboration.
Associate notes to extensions for quick reminders of the user's status.
Easy Call Transfers
Supervised Transfer – Prior to transferring a call, the attendant can brief the intended recipient with information about who is calling and the purpose of the call.
Transfer to Voicemail – Send a caller straight to a recipient's voicemail box.
Direct Transfer – Instantly transfer the call to any extension.
Call Park
Public Park – Anyone in the branch or organization can retrieve the parked call.
Branch Park – Anyone within a defined branch can retrieve the parked call.
Private Park – Only the user who's extension that the call is parked on can retrieve the parked call.
System Requirements
Supported Operating Systems
Windows® Vista, 7, 8 or newer.
Mac OS 10.6 or newer (Java 6 included).
Supported Browsers
Google Chrome 21.0 or newer, Firefox® 26.0 or newer, Safari™ 6.0 or newer.
NOTE: Internet Explorer is not supported.
HTML5 compatible web browser with minimum browser window size of 1024 x 768. Display window size of 1920 x 1080 (HD 1080P) is recommended.
Note: Test your browser's support for HTML5 at http://html5test.com/index.html
VoIP Requirements
8x8 Polycom desk phone.
Headset with Microphone (optional) attached to an 8x8 Polycom desk phone.
User Guides