Understanding Voicemail to Email
Voicemail to email enables you to quickly review new incoming voicemail messages or forward voicemail to email. You can receive voicemail to your inbox and respond to it whenever and wherever you want to.
Many people spend much of their workdays responding to messages. Your phone system's voicemail to email feature allows team members to scan their voicemail messages and choose an option for reviewing the message via text transcript or audio recording.
What Is Voicemail to Email?
Voicemail to email is a feature designed to make voicemail accessible away from your phone. Even if you're not at your desk, you still have the benefit of viewing or listening to your messages. Set your notification preference to email with text transcription or email with an audio file. To do this, the system will forward voicemail to email.
With voicemail to email transcription, you do not even have to listen to the full audio recording of every message. Incoming voicemails are automatically transcribed. If you need to compare the transcription to an original recording, your phone service usually includes the unedited audio version along with the email text transcription.
Because of these features, voicemail to email has several very practical uses for businesses.
Voicemail to Email Benefits
If you're looking for productivity strategies you can implement in your business, voicemail to email may make a difference for your organisation. Team members who spend the bulk of their time using email may find this feature particularly helpful.
These are a few of the most important features and benefits for businesses:
Better responsiveness: Voicemail to email can help recipients receive their voicemail messages sooner. Easily screen and prioritise messages so that you can respond to the most important calls first
Review messages remotely: Available anytime, making it convenient for people who are often in meetings or on the go. This is also helpful for businesses with a distributed workforce or home-based call center agents
Multiple messages in two formats: If you cannot listen to the audio right away or prefer to use a transcript, voicemail to email offers an alternative to listening to your voicemail
Store and file your messages: Since you're using email to receive new messages, you can easily save and categorise voicemail messages for later use or for compliance purposes. No longer worry about accidentally deleting a voicemail as you are sent an email with the transcribed text
With the right features, voicemail to email can be a useful asset to your communications process.
Work More Efficiently With Voicemail to Email
With the voicemail to email feature, your team can effectively respond to incoming voicemail messages and improve communications efficiency. Sending voicemail to email has several valuable uses for organisations looking for the right phone system. Your phone service provider can deliver the right tools to help your business communicate better and grow.
8x8's Voicemail to Email
---
Voicemail to email is a great way to save time and be more responsive to your clients.
---
Get an instant email with a transcription of your message along with an audio file attached every time someone leaves you a voicemail.
The email includes the phone number of the person who called, so returning calls is quick and convenient.
Choose your notification preference: email with transcribed text and audio file, email with audio file, email notification only, or no notification.
Customer Comments
"The voicemail-to-email account feature has increased customer satisfaction and efficiency for our business. It has also helped increase our sales numbers by at least 10%."
"It makes it so convenient to quickly listen to voicemails as they come in whether I'm in the office or not. My clients are sometimes surprised by how responsive I am, especially after hours or on weekends."
"If I happen to delete a voicemail on my phone, I can always find it in an email. This system of sending voicemails by email is a great reminder for those busy overwhelming days at work."
Example Email
Desktop view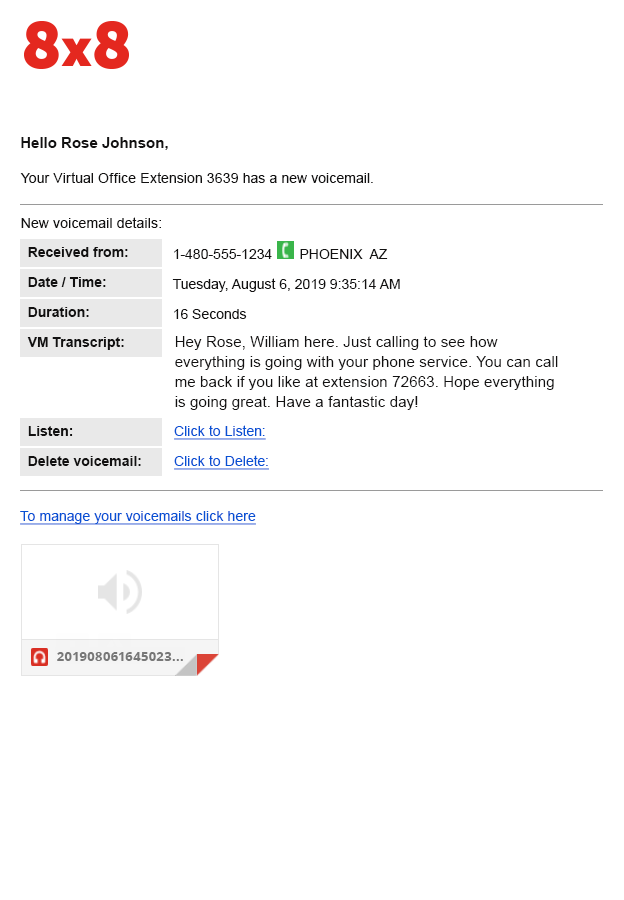 Mobile view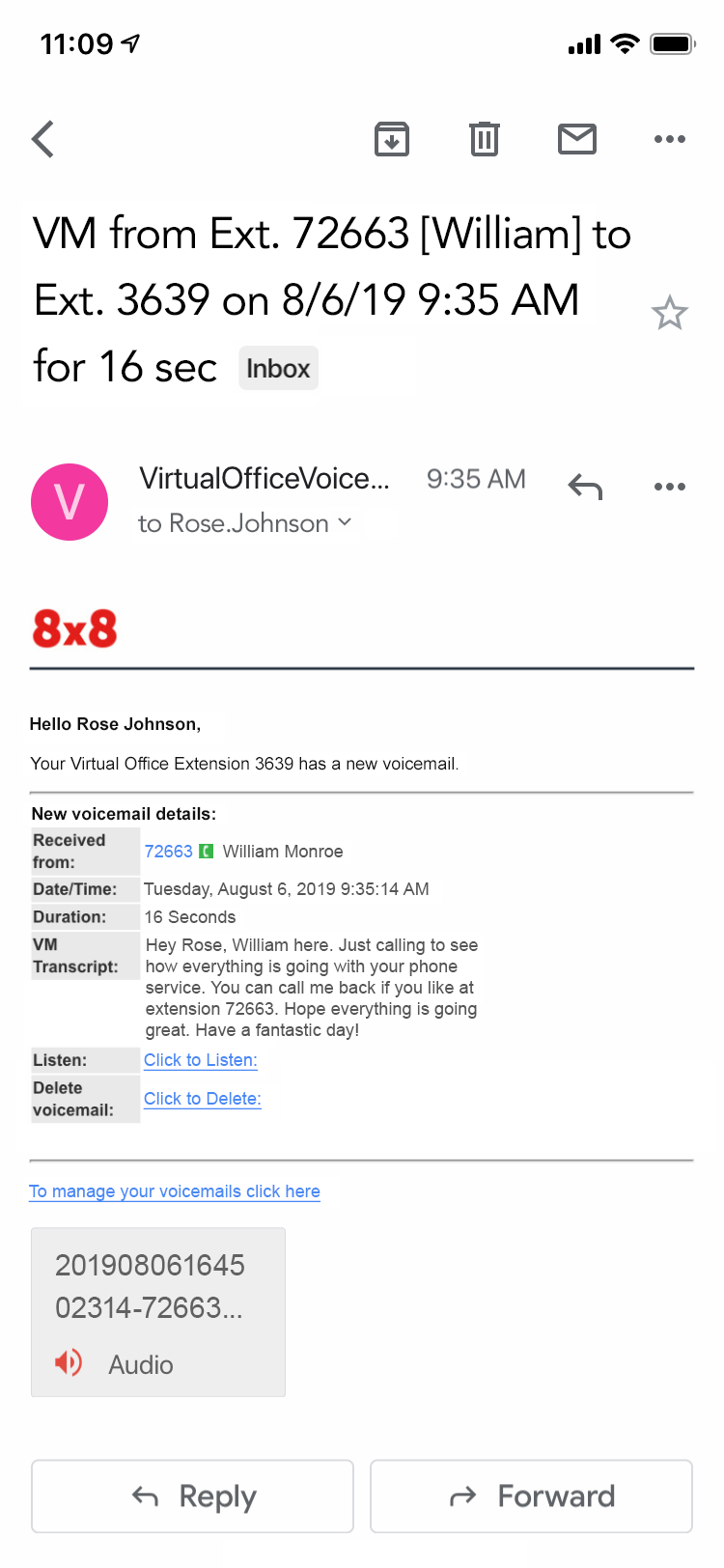 * Voicemail has to be longer than 5 seconds to receive an email with the transcribed text.
Get More From Your Voicemail
Cloud communications features such as voicemail to email allow your business to work more efficiently and get more done whether you're at the office or on the road. Instead of being tethered to your phone, get the flexibility and utility of email while reducing your risk of missed messages and lost opportunities. 8x8's voicemail to email feature can help.
When it comes to VoIP, 8x8 provides a reliable and compliant cloud solution at a demanding level rarely seen by other cloud providers. Don't take your chances with a subpar cloud-based telecom system. Call 1800 854 171 or fill out an online form to request a no-obligation quote from an 8x8 product specialist.