Who You Gonna Call? 8x8 Academy!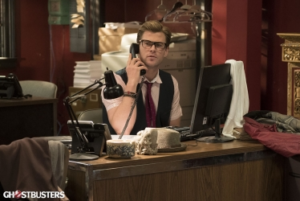 Have you ever grumbled about adapting to a new software update that changed the way you worked? You're not alone. Weathering change is a challenge–no matter how much a new design might make life better in the long run.
Adopting a new 8x8 unified communications system is no exception. You can talk about benefits until you're blue in the face, but many users would rather walk on nails than unlearn the old way. That's because the old way is familiar. Regardless of the productivity benefits, busy users often resist change. The thought of learning a new software-based phone system can make new users panic like New Yorkers facing a green slime invasion in Ghostbusters 2016.
But there's no way around it. An amazing new communications solution is still a cheese mover. They're going to have to relearn how to answer, transfer, and put calls on hold. They'll need to record new voicemail greetings, which they may not have changed in decades. And there may be the added challenge of learning new concepts, such as parking calls or flipping calls between devices.  
When your users start to panic about these changes, who you gonna call?
Meet 8x8 Academy. We're here to help everyone learn how easy it is to configure, manage, adopt, and use 8x8 solutions.  We offer comprehensive training on all 8x8 tools and products, through fee-based Instructor-led classes and free online materials, accessible anywhere and anytime.
At 8x8 Academy, you'll find support to roll out an 8x8 solution to end-users, contact center agents, supervisors, managers, and system administrators. We offer:
Free, self-paced training for end-users, agents, and supervisors, designed for rapid implementations, small businesses, and companies with minimal internal training resources

Live, instructor-led virtual classes to teach System Admins how to configure and administer 8x8 products: Virtual Office, Virtual Contact Center,Quality Management and more

End-User Adoption Kits to manage change, plan your end-user training roll-out, and drive end-user adoption across one or multiple sites  

The option to engage 8x8 Academy for custom or on-site training

The

8x8 Academy Channel Partner training certification track

(coming in January 2017)
Find free training and browse our course descriptions on the 8x8 Academy website at www.8x8.com (under Products > 8x8 Academy).
In the 2016 Ghostbuster trailer, there's a scene where Erin (Kristen Wiig) asks Kevin (Chris Hemsworth) to answer a ringing phone.

"Can't," he answers. "It's in the fish tank." The camera zooms to a close-up of a desk phone submerged in the office fish tank.
With 8x8 Academy you can be sure your end-user adoption is smooth and the fish stay safe. Take a look at what 8x8 Academy can offer. Like Ghostbusters, we're here to help. For information about 8x8 Academy class and fee schedules, contact [email protected].