When Clouds Collide, It Rains Data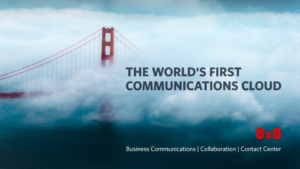 Today, we introduced the world's first Communications Cloud which is the exciting result of years of research, development, technology acquisition and innovation by the entire 8x8 team. But that's not what I am writing about today. If you want to know more about the 8x8 Communications Cloud, you can click over to the press release or an informative white paper on the value proposition of Open Cloud.
Instead, I want to focus on why we developed the Communications Cloud and why ultimately, anyone beyond our friends and family should care. You see, our mission and our focus for years has been about moving thousands of companies to the cloud to help simplify Unified Communications and Contact Centers, and abstracting the complexity companies' face in dealing with antiquated communications infrastructure. But an interesting thing happened on our way to simplifying things – the world around us got more complex. Here's how…
Convergence
Unified Communications is a healthy and growing market that is seeing more innovation than at any point during the last several decades. Similarly, the Team Collaboration space has been heating up with all of the interest in HipChat, Slack, Facebook Workplace and last week's introduction of Enterprise Hangouts from Google, to name a few. Well, recently many have noticed that Unified Communications and Collaboration are on a collision course.
Why? Because companies rightfully think that any application that allows two people to communicate should probably be considered part of the same general category of application – whether it's chat, voice, video or messaging. Enter the age of Unified Communications & Collaboration.
Creation of Communication Silos
I mentioned some very popular and widely adopted team collaboration tools like Slack and Hangouts. The proliferation of these tools that don't talk to each other, combined with traditional disparate communications channels has led to the creation of communications silos across the enterprise. These silos inhibit the ability of companies and users to get a complete communications view of interactions with customers, colleagues and partners. These silos are the bane of productivity and insight that could change how companies do business.
A Thirst for Analytics
Analytics are a drug. As more and more companies see what real-time analytics can do for decision making in very narrow and niche applications, they begin to think about how powerful real-time analytics could be if applied across all communications data. That is, what would happen if we could take real-time communications data and expose it to other business applications? For example, how much value could be gleaned from every communication event with a customer being integrated into a CRM system, giving a salesperson clear direction on the right next step to close a sale?
So why did we launch the world's first Communication Cloud? Because enterprises want a world where Unified Communications, Collaboration, Contact Center and Real-time Analytics converge. Customers want to take all communications events and data and expose them to other clouds, like Sales, HR, Finance and Marketing, in order to make better decisions and drive increased productivity across teams and lines of business.
That is why we acquired Sameroom – to allow us to drive interoperability between the world's most popular messaging and collaboration tools, and expose that data to other clouds. That is why we are integrating with the world's most popular Sales, HR and Marketing applications, to ensure the 8x8 Communications Cloud connects across all lines of business delivering value to your entire organization. It's why we announced new APIs and Script8 for customers and partners – to ensure that communications information from 8x8 services is never siloed and can be accessed by our partners and their applications.
Our mission used to be to help companies get their Unified Communications and Contact Centers into the cloud to abstract complexity. Our new mission is to tackle complexity head on to get the Communications Cloud to collide with other clouds and rain insights on your organization.
The 8x8 promise is to get employees, customers and applications talking to make people more connected and productive no matter where they are in the world. As we look toward the future, we will continue to build on this promise.