Is Your Contact Center Solution Engineered to Go Global? Why it Matters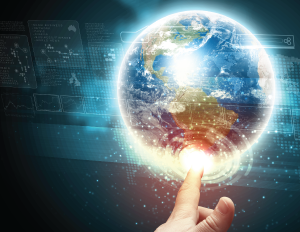 There are way too many things out there that are a lot harder than they look—like backflips,  juggling, and providing exceptional global customer service. Especially if you're already providing good service from one location, it's easy to think, "Well, we'll just have to do the same thing, but in a different language and a different place. How hard can it be?"
Unfortunately, in real life, it's never that easy. Here are some of the challenges that you might encounter, and how to deal with them if they arise.
1. Can you hear me now? Low quality calls jeopardize customer relations.
Ever been on a low-quality international call? There are often big lags in the conversation, so people think that it's their turn to talk. They end up talking over each other, apologizing, then setting off another round of attempts to carry on the conversation.
When this happens, it's the result of latency, which is a time lag that can turn into a problem when signals are forced by bad call routing to travel long distances.  Any message must travel some distance, but the human ear starts to hear noticeable lags if a signal has to travel more than about 3,000 miles (about 4,800 km). Plus, the longer the signal must travel, the more possibilities there are for errors to be introduced, resulting in a generally low-quality conversation.
Some providers make the problem worse by only routing traffic through one locale, which might be very far away from the parties to a conversation. For instance, why should, for example, two Australians have their conversations routed through, say, Seattle, thousands of miles away? This kind of routing takes the problem from unnoticeable to unbearable.
Innovation helps combat the problem. For example, 8x8 more than a dozen patents for Global Reach technology that routes calls through the best possible path—helping to ensure high-quality sound and conversations. The calls go to the best choice of nine data centers strategically located around Europe, Asia, Australia and North America, helping to achieve optimal routing and the shortest delays. Using this routing, it becomes almost impossible to distinguish between domestic and international calls. This level of quality makes for more satisfied customers and better customer experiences.
2. You need worldwide management, reporting and analytics if you have distant or global operations.
You can't manage what you can't see. Getting data from all of your contact center operations is essential for good management, as the experts at Aon Hewitt will tell you. The company helps other organizations manage their benefits and other business processes, and sets up a contact center for each of its clients. Efficient contact center management is essential for Aon Hewitt, since that's the company's bread and butter.
"We run reports on both our clients and our office locations," says Abdul Qadir, systems manager at Aon Hewitt. "By comparing the call statistics, we ensure that we're meeting our service delivery targets for every client across Aon Hewitt."
That's why you should always ask contact center solution providers to show you the kind of worldwide metrics and analytics they offer. You should also ask if they can provide one set of metrics for all of your global operations, and drill down to look at particular locations. Also, ask about time lag for reporting, since you want to see real-time or nearly real-time information, while you can still take quick action to fix problems before they become intractable or at least, much harder to fix.
And once you have useful analytics, you need to manage a worldwide contact center as a single team.  If you find yourself having to set up each geography as a separate instance of your system, then you don't have a global system. You have a different system in each region, and you can't manage your teams, queues or quality management tasks as a single team.
3. Your contact center should work with your phone service and your CRM systems.
Many companies have found that it's really important that their contact centers not end up as remote silos. They often mention the ease of communicating with customers on all channels—and cultivating great relationships.
Typical of these is iCruise.com, a division of WMPH—which stands for "We Make People Happy"—which runs its customer booking and service business on 8x8's enterprise communications.
"We love having a combined voice and contact center solution that can do it all: provide inbound and outbound calling, call management, live agent chat, click-to-call, call recording and live routing options," says iCruise.com co-owner Don Walker. "It's a one-stop shop for all our needs."
And if the contact center integrates with your customer relations management (CRM) systems, calls are automatically logged and can be recorded, so that the latest information always pops up for the agent to look at, the instant that a new call comes in.
It's also helpful if your contact center supports automatic translation for chat messages, to help deal with language barriers. Agents and customers enter their messages, and the system converts it to the target language so quickly that the translation appears nearly instantaneous.
4. Pick the most reliable provider you can—preferably one with a track record of global deployment.
Nobody wants to hear, "Please call back later," so you want a contact center solution provider that can give you the best possible reliability.
It's a good idea to research average uptimes for possible contact center providers. Ask what the average yearly reliability is, and ask whether that takes into account scheduled outages, such as weekly down time for maintenance.
8x8's most recent yearly average is 99.994 percent, a statistic that does take these factors into account, because 8x8 is capable of temporarily supporting Virtual Contact Center instances on a different server during maintenance, so there's no need for extended regularly scheduled maintenance outages. Also, in 2015, 8x8 became the first cloud communications provider to guarantee both voice quality and 99.99 percent uptime, even over the public Internet, effectively ensuring high levels of voice quality and reliability.
And when it comes to weathering disaster, cloud providers, especially those with multiple redundant data centers, can often keep communications going, when an on-premises hardware-based PBX would probably be damaged by whatever calamity just hit.
"Phones are crucial to us—to have them down for any length of time kills our business," says Eric Tewey, director of customer service for MatrixOneSource, a business process outsourcing firm whose main contact center is in the Sunshine State. "Our clients expect great service from us no matter what's going on in Florida."
The flexibility of 8x8's cloud-based service enables MatrixOneSource agents and employees to work anywhere—from home, at another office, or even out of state if necessary.
"Having a cloud provider means I can move my people without missing a beat," says Tewey. "Even though a storm hits, we won't let our service levels drop."
5. Ask about security and compliance—and pick a contact center company that makes it a priority.
Many countries have compliance or security requirements that can be difficult to satisfy. That's why it's a good idea to ask what standards a contact center solution meets before you sign up for service. Do they comply with PCI-DSS 3.0, a common credit card processing protocol? What about about other standards, such as those for data protection and privacy? What about any standards peculiar to other countries where you're doing business?
Providing support for global operations is a serious endeavor. But with the right contact center technology, it's doable—and definitely easier than juggling—to grow your customer base far beyond your current boundaries.