Desk.com Integration with 8x8 Virtual Office
8x8's Virtual Office business phone service integration with Desk.com gives your employees the tools they need to provide excellent customer service.

8x8 and Salesforce have partnered to provide a tightly integrated cloud solution that combines and enhances the strengths of 8x8 business phone service and Desk.com, right out-of-the-box. Setup is easy and can be completed in just a few minutes.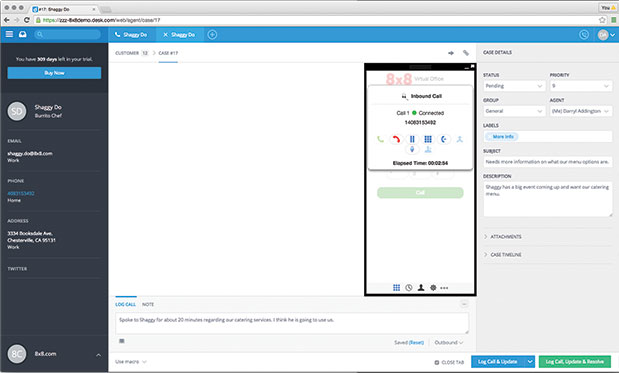 Enhance Every Customer Relationship
Instantly identify who is calling via screen pop matched to Caller ID
Get access to existing tickets or open new tickets instantly
Click-to-dial makes calling customers back hassle-free
Pre-built Integration Means You Can Focus on Customers
The Desk.com integration with 8x8 operates cloud-to-cloud. 8x8 manages upgrade cycles for 8x8 and Desk.com so you stay on the latest and greatest releases, and we make sure the integration keeps pace. That means you can focus on customers, instead of software maintenance and upgrades.
Make More Informed Decisions and Grow Revenue
Capture key information on each customer interaction and deliver personalized, better-informed customer service with the robust integration of 8x8 Virtual Office and the Desk.com solution. You'll provide better, more efficient customer support and grow revenue through long-lasting, profitable customer relationships.