The Right Contact Center Solution for Your Business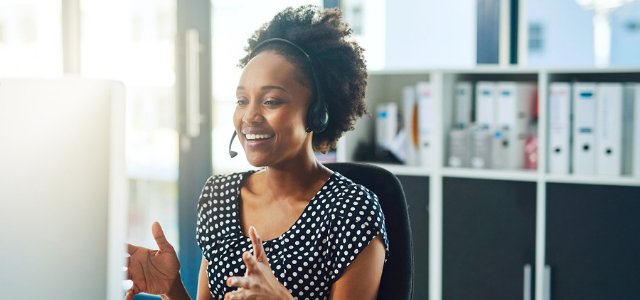 If you want your business to grow and thrive in this competitive business climate you need to double down on your customer service. If you won't provide top-notch customer service from the very first interaction, there are a ton of competitors your customers can turn to.
Even though businesses know how valuable their customers are, it can still be difficult to meet changing customer communication needs.
Being able to effectively manage customers when they contact your company is paramount. You not only need to be able to effectively answer their questions and solve their problems, but you need to do it as fast as possible.
Learn how a contact center solution can help you easily meet your customer needs while helping to solve most of your customer communication issues.
What is a Contact Center Solution?
Contact centers have evolved from the traditional call center. Call centers of the past strictly offered phone support for your customers and clients. However, these traditional systems have evolved to full-fledged contact centers that allow for multiple methods of customer interaction and tracking, including phone calls.
The most popular form of contact centers are hosted contact center solutions. Instead of having to store all of your data on-site, and invest in expensive physical communication hardware, you'll rely upon a third-party provider.
This offers you benefits like remote access to your contact center while reducing onsite maintenance costs, the ability to integrate your contact center with existing software, offer unique customer service options, and more. Plus, you can get all of this at a competitive cost.
Why Your Business Needs Contact Center Solutions
With a contact center behind you, you can transform the way you interact with your customers. Here are the most common benefits you'll receive when employing a contact center solution:
1. Help You Build Long-Term Customer Loyalty
By providing easy phone access to your customers you'll help to not only improve their customer satisfaction but also grow their loyalty over the long-term. With a contact center behind you, you'll always have the necessary resources o meet your caller's needs, and ensure they can speak with a knowledgeable representative every time.
2. Help to Project a Positive Company Image
In today's competitive business climate, trust is everything. First, if your company is unreachable your customers are much less likely to trust you. With multiple customer support options they'll always be able to get in touch with you.
Beyond trust you can also create an aura of professionalism that surrounds your company. For example, by offering a professional custom greeting, and placing your callers into a queue you'll create the image that your company is busy with customer requests, but still values them. If you're a smaller company this can help to present the image that you're professional and growing.
3. Help Your Business Increase Sales Volume
Ideally, whenever a customer calls your company you'll have someone available to answer the phone. By having a call center queue you can ensure that your customer calls are answered, or routed, as quickly as possible. Even though some businesses opt for customer voicemails, most customers won't leave a voicemail, they'll simply hang up.
A contact center can help to ensure you always have the available staff to handle your current call volume, while always ensuring a speedy call response.
4. Help Your Business Reach Customers 24/7
If a potential customer can't reach your business the chances are high they're going to reach out to one of your competitors. With a contact center solution, you can usually offer 24/7 phone support, even outside regular business hours. This will not only help you meet the needs of a worldwide customer base but also ensure that you're there to assist your customers no matter what time of day they reach out.
Contact Centers vs Cloud Contact Center Solutions: Which One is Best?
Cloud contact center solutions are the latest iteration of contact centers. A cloud contact center provides you with a virtual hub to manage all of your customer and client communications. No matter if that's via email, live chat, traditional phone calls, or something else. These various forms of communication are then integrated into a single dashboard.
Overall, this will help to elevate the level of customer service your organization can provide. Whenever you interact with a customer you'll be able to see their entire interaction history, making it much easier to solve their problems rapidly and provide them with the level of personalized customer support they crave.
Today, cloud contact center solutions are becoming the norm. By using a contact center you can improve your ability to meet your customer service needs while offering a higher level of service overall.
With 8x8's Virtual Contact Center you get world-class technology and everything your domestic or international business needs without the need for multiple disparate systems. Call 1-866-879-8647 or fill out an online form to request a no-obligation quote from an 8x8 product specialist.