Calling all call centre professionals

Are you ready to learn, connect and be inspired?

Bringing you the latest call and contact centre insights...
This dedicated site aims to educate and inform you through a series of seminars,
masterclasses and product demonstrations, online.
Virtual Keynote
'The 3Rs for successful business continuity planning'
Hosted by 8x8's Chief Customer Officer, Managing Director of EMEA, Samuel Wilson.
It's not just health pandemics that can derail business operations; terror attacks, infrastructure failures and even 'natural disasters' can trigger shut downs. As these threats continuously evolve, so should your planning and business continuity strategy. Sam shares the 3Rs to successful business continuity planning: Readiness, Responsiveness and Resilience.
Virtual Seminar
Breaking down silos and improving collaboration to wow customers, enhance productivity and drive revenue.
With Chris Marron, Director of Marketing Intelligence.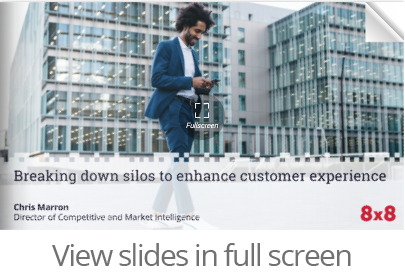 Exploring the importance of collaboration and cross-functional cooperation in driving customer experience and profitability, investigating the benefits driven by breaking down silos between front and back-office functions to drive meaningful business benefits.
Digital Masterclasses
Our masterclasses are aimed to help you understand how tech is driving change in the call centre world. They are delivered to you as short video sessions to give you the information you need in less time.

Critical cloud communications business case questions
Mayur Pitamber, Senior Solutions Marketing Manager, 8x8

View slides in full screen

Why is CPaaS a game changer?
Matthew Bell, EMEA VP Sales, 8x8

View PDF in full screen
View SMS Services datasheet

Product Demo Hub
View our short demo videos which cover a range of our call centre platform features aimed to help run a more efficient operation and a superior customer experience. Keen to learn more? Or would you like to arrange for a live demo? Talk to us today.
Managing your phone system from anywhere
Extension users can also manage their extensions online with the Virtual Office desktop app.
Customer experience analytics
Learn how to gain real insight into the performance of your agents and contact centre.
Quality Management
Learn how 8x8 Quality Management offers powerful, yet simple ways to improve contact centre agent performance.
Speech Analytics
We walk through how customer insights enable you to optimise customer experiences through data-driven decisions.