Quality Management for 8x8 Virtual Contact Centre
Collaborative Performance Management
Tightly integrated cloud-based quality management solution that enables collaboration to drive exceptional results.
Your agents are your front line to your customers. When agents don't perform, you hurt your customer relationships. 8x8's Virtual Contact Centre with Quality Management helps you deliver excellent customer experiences while maximizing agent efficiency. With 8x8 Quality Management, you can:
Identify and monitor agents in need of coaching
Highlight high-performing agents as role models
Enable collaboration via industry-unique @mentions built into the application
8x8 Quality Management offers powerful, yet simple ways to improve contact centre agent performance.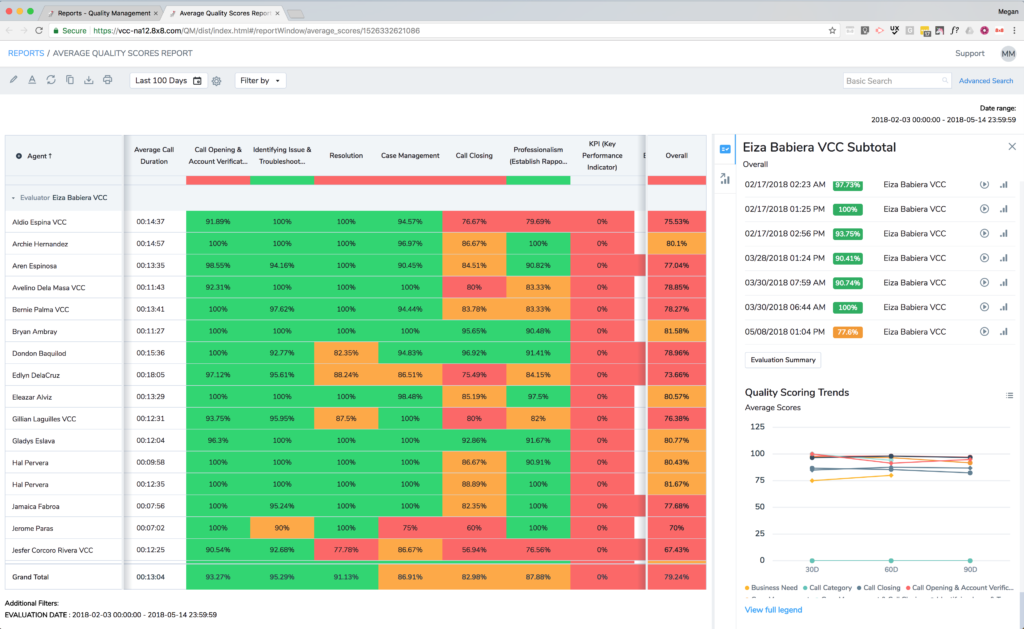 Get the Best from Your Agents with 8x8 Quality Management
Fast to set up, easy-to-use system takes the cost and headaches out of coaching agents for optimal performance.
Tight integration into 8x8 Virtual Contact Centre
Class-leading elastic search technology to quickly find noteworthy interactions
Flexible scorecards to structure and rationalize feedback
Efficient agent review environment:

Timeline allows you to easily move within a call
Separated agent and customer waveforms for efficient reviews
Adjustable, high quality screen recordings provide insight into agent activities
@mentions and annotations available throughout application
Powerful and flexible pivot-table style reporting
Trend analysis to efficiently spot strengths and areas for improvement
8x8 Quality Management Features
Tight integration with 8x8 Virtual Contact Centre
One contact centre platform that delivers the breadth of functionality required to deliver excellent customer experiences and maximize agent efficiency
Automatically share agent information across contact centre and quality management solutions
Single sign-on grants access across both products
Fast, simple quality management setup instantly incorporates agent information from Virtual Contact Centre
Built-in training for onboarding supervisors and agents to drive use of the tool throughout the call centre
Comprehensive roles and permissions to granularly control access to sensitive data
Simple, easy-to-use toolset
Quickly and efficiently search through thousands of calls in seconds
Filter transactions on a variety of criteria, including agent's name, queue, customer name, transferred calls, transaction codes, custom fields, and more
No complex linguistic search or artificial intelligence required: easily find noteworthy interactions using a simple search tool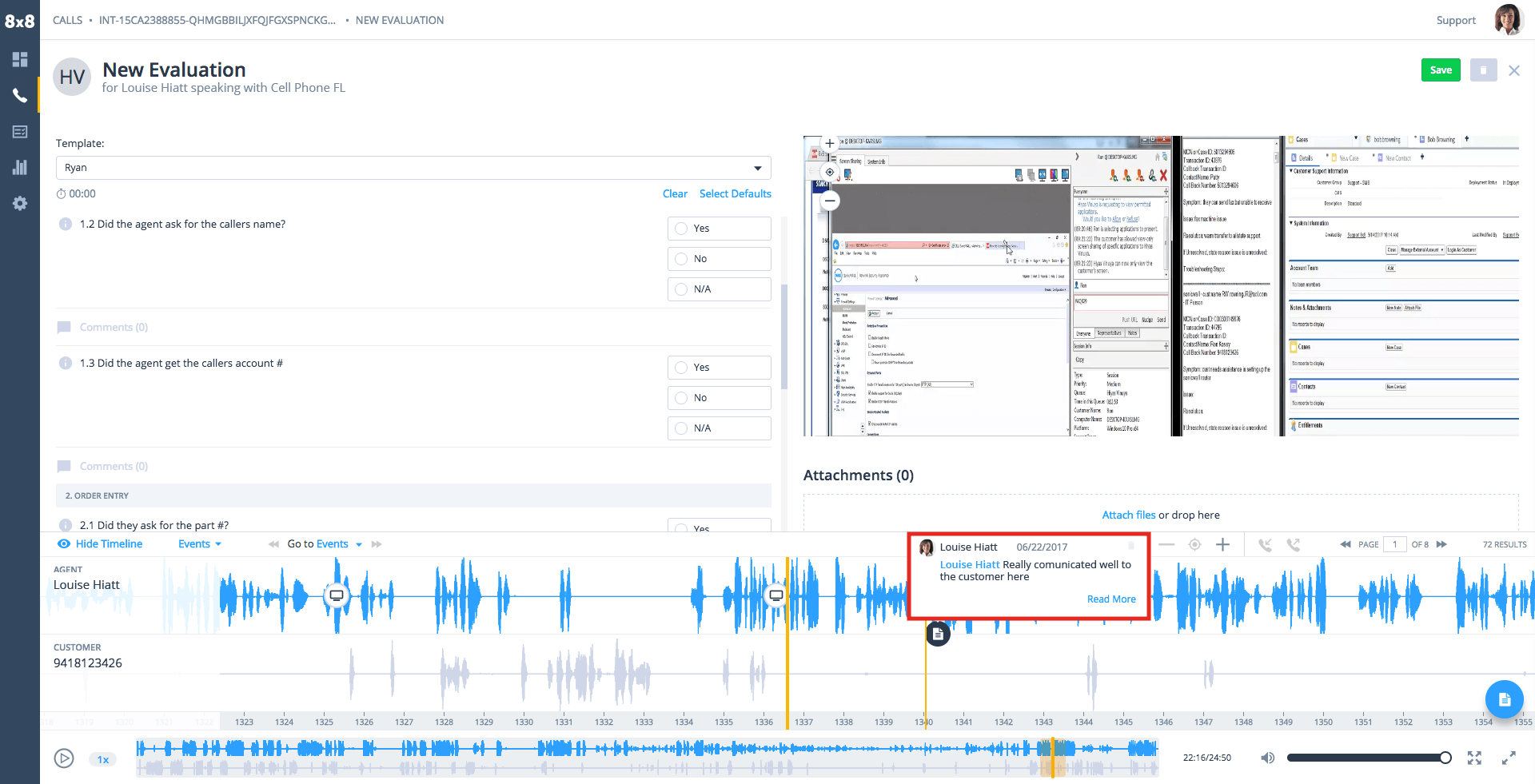 Powerful tool for building agent review forms
Easily build evaluation templates that support a variety of question types (yes/no, multiple choice, single answer, 1-10 scale)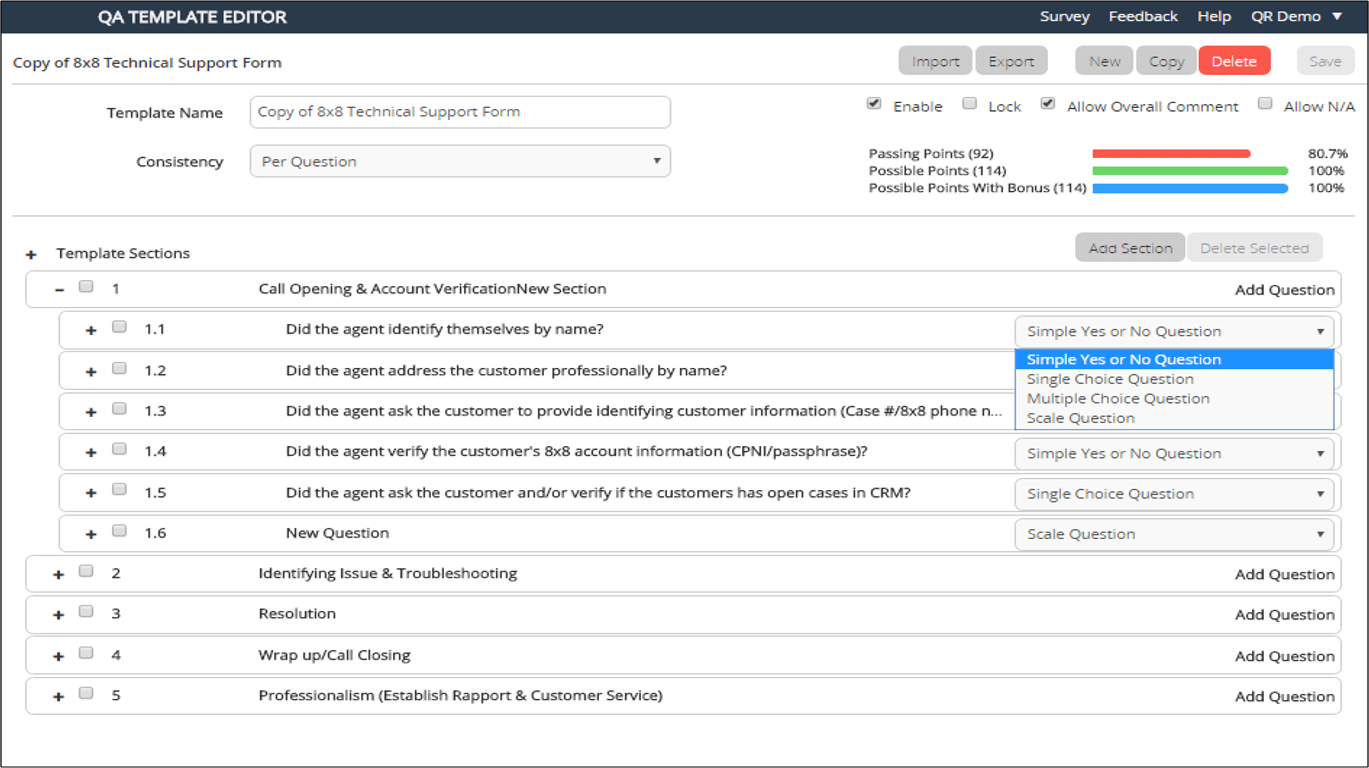 Quantify and measure agent performance
Define performance expectations and measure agents
Set performance baselines and measure changes over time
With multiple reviewers scoring the same interaction, differences between the scores can be used to normalize the review scoring between different reviewers
Attach and share up to 10MB of files per evaluation
Auto save feature when completing evaluations; never lose your work
Call recording and screen storage
Storage plans by week, month, quarter or year
Supports Manual Screen Recording while not on a call
Supports Windows and Mac Desktop environments for screen recording
Speed up or slow down synchronized playback of voice and screen