Moderate This! Or, Key Features for Large Virtual Meetings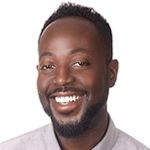 Jared McGriff
November 03, 2021
How many times have you been in a virtual meeting where a barking dog joins the conversation, only to confuse the audience and derail the meeting? Or have you experienced meetings where neighborhood construction noise makes it hard to hear the speaker? Distractions like these are all too familiar in our current environment, where most of us are working from home at least some of the time.
Large meetings can be equally challenging in that they are often hard to follow and unwieldy. With a handful of people, you can easily see facial expressions and pick up subtle cues, such as when someone wants to join the conversation or share their screen. As soon as meetings become larger than a few attendees, it helps to use moderation features and leverage tools for real time feedback.
8x8 Work enables you to run large meetings for up to 500 attendees and at the same time ensure a good experience for everyone—even for those who are not sharing their screen or otherwise presenting content. And you no longer need to brace yourself for potential distractions. Instead, you can control the meeting experience, so that all your meetings can be as effective and engaging as possible.
Let's take a deeper look at the meeting management features of 8x8 Work, such as multiple moderator support, lobby access, sharing controls, and real-time feedback.
Moderator designation
Meeting hosts can designate one or more attendees as moderators for their meeting. Moderators can have the ability to mute attendees, as well as manage meeting functions like polls and chat. This allows a select group of attendees to support each other in making the meeting run smoothly, and it also frees the host to focus on the core content of the meeting.
Attendee lobbies
To support a better meeting experience for all, the lobby feature enables meeting hosts to manage who joins the meeting, and when. This gives presenters and moderators time to prepare their materials and cover any admin details before attendees join the meeting. In addition, hosts can ensure that only invited attendees have access to the meeting, thus avoiding intrusions and security issues.
Sharing controls
The more attendees in a meeting, the higher the potential for distractions. At times, attendees may inadvertently share audio or video that interfere with the meeting's purpose and flow. To mitigate this scenario, 8x8 gives moderators the ability to mute attendee audio and video and allow only designated speakers and presenters to share content. This helps hosts make meetings more organized, secure, and focused, so that teams can come together around important topics and move ideas forward.
Using the above features helps teams have a superior in-meeting experience, and better understanding of project details and who is responsible for certain action items. This clarity can be achieved with good meeting habits and advanced moderation.
Real-time feedback polls
With large meetings, it can be hard for hosts and presenters to read the audience. How can meetings with so many attendees still be engaging to both the audience and the presenter? 8x8's real-time feedback tools give attendees an interactive way to share their perspective and understanding during the meeting. Hosts can quickly set up polls to gauge audience sentiment on the content being discussed or learn more about the audience in real time. This helps the host make the meeting more valuable for everyone; presenters can see how content is resonating with the group and attendees can be part of the conversation, even if they are not speaking. For example, a teacher can use this feature for a quick pop quiz or a host could ask for team availability to plan a special event.
Emoji reactions to meeting content
In addition to polls, users can share feedback using 8x8 Work's emoji reaction menu. These fun animations can be activated to respond to content, such as with claps to celebrate wins or laughs to follow a humorous anecdote shared during the meeting. Lively interactions make meetings more enjoyable and memorable. Using emoji reactions helps presenters understand that the audience is attentive to the content that is being shared.
Take your meetings to the next level
Large meetings are more effective and manageable when moderation features are used and participants have the tools to engage. Meetings that take place with minimal distractions and open communication will save time for employees, customers, and partners. By ensuring that your attendees are able to clearly understand content and share their feedback in real time, you can take your meetings to the next level.
Everyone appreciates efficient, structured communications. You can take control of large meetings,whether it involves quickly muting the attendee with a noisy background or setting up a lobby to give yourself time to prep, you have a range of options to make the most of your meetings with internal teams and customers.
The 8x8 eXperience Communications Platform
As organizations support hybrid workforces, they need to continuously improve company-wide collaboration to drive productivity for their teams. 8x8 delivers communications tools that bring all employees of all workstyles and locations together on a highly reliable platform. 8x8 Work is built on the resilient, secure, and compliant 8x8 eXperience Communications Platform™, which offers the highest levels of reliability and the industry's only financially backed, platform-wide 99.999 percent SLA across an integrated cloud UCaaS and CCaaS solution.
Visit 8x8.com to learn about video meetings and the latest 8x8 XCaaS enhancements.
---