10 Top Items to Have in Your Hybrid Work Starter Kit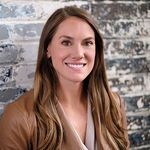 Amanda Jerome
June 20, 2022
Over the past two years, our definition of the office has dramatically evolved. As the world reemerges from the pandemic and return-to-office plans are made, most businesses are expected to embrace a hybrid model where employees work both remotely and in-person, either in a flexible model or one where the business chooses specific days of the week for all employees to be in office. (In a recent survey, more than 54% of employees said they'd consider quitting their current job if a hybrid work option wasn't offered).
As many workers prepare for the return to the office while continuing to work remotely (at least for a few days), it's important to look for and stock up on the items that will support both in-office and remote work.
To help workers prepare, we've outlined the top 10 must-have items that every hybrid remote worker should have in their starter kit.
For the corporate office:
1. Hand sanitizer and other personal protective equipment. While many companies will not be returning workers to the office in any capacity until the threat of the pandemic has completely subsided, once they do, personal protective equipment and sanitizing wipes will still be important, especially given that 50% of the U.S. workforce says they are concerned about COVID-19 exposures at work. Offices will most likely have new safety measures in place, including plastic dividers, hand sanitizing stations, and desks that are appropriately distanced. However, having your own personal hand sanitizer, sanitizing wipes, and extra face masks in your starter kit will ensure you feel safe and confident when commuting and while at the office.
2. Snacks, coffee cup, utensils, and a reusable water bottle. Some offices will minimize the amount of shared food and kitchen supplies to reduce the number of high- and multi-touch surfaces. To prepare for this, make sure to bring personal snacks and a reusable water bottle at minimum so you can stay energized and hydrated throughout the day. Plus, this practice is beneficial to the environment.
3. Notepads and pens. Similar to shared kitchen appliances, offices may reduce the amount of shared office supplies. Fill your starter kit with items like personal notepads, pens and a stapler, for example, in case your office doesn't have its own supply and so you don't have to use other employees'.
4. New backpack and commuting apparel. For those who have been working remotely full-time over the past two years, it may be time to invest in a new backpack or computer bag and other commuting apparel to start off hybrid work feeling confident and comfortable. Use this opportunity to invest in clothing and footwear that will make you comfortable and a larger backpack that will allow you to fit everything you may need when going to and from the office.
5. Chargers. While this one may seem obvious, phone and computer chargers are often one of the most forgotten items when traveling between home and office. When you start a hybrid work schedule, be sure to always have one in your bag or at both home and office desks, so that productivity is not interrupted by your phone or computer dying halfway through the day.
For the home office:
6. Person