Will Bots Replace Humans in the Contact Centre?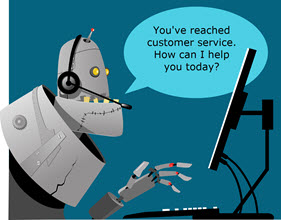 If you believe the hype, contact centre and customer service employees may soon be out of work.
According to the BBC in the UK, occupations in the contact centre industry are among those most at risk of being taken over by robot workers. They rank 109 among 366 jobs. In the future, the rise of automation will undoubtedly play a huge role in the industry, taking on simple, repetitive tasks and answering basic queries. The benefits are obvious. Robots can work 24 hours a day, seven days a week, and only take a few seconds to be 'trained' on a new topic.
But not so fast. Humans in the contact centre aren't on the way out. I believe people in this industry all around the world have a bright future–and to write them off entirely would be to ignore the strategic importance of human interaction to a company's brand.
The contact centre is increasingly becoming the only place that customers interact directly with a brand, more specifically with the people on the front line that represent it. This is particularly true for e-commerce companies that don't have the presence of a physical store. In an era where brands are defined by the service they provide, not just the products they sell, the actions of the contact centre team are fundamental. In fact, they are the customer experience that make a brand what it is.
Contact centres are full of highly-trained, knowledgeable people with problem solving and negotiation skills. It's very difficult to replicate these important skills with automation. Not to mention the "softer" skills such as showing empathy and charm. These are virtually impossible for robots.  
This human touch is even more critical when you take into account that customers most often reach out to a contact centre when something has gone wrong and are looking for help.
We're all too familiar with the "computer says no" approach. It's when human call centre agents start showing robotic traits and refuse to deviate from a script, that this leads to customer frustration. Creating a dialogue and building a relationship is key to getting to the bottom of a problem and making sure it's dealt with properly. Unless you consider fictional films like Star Wars or Her, no one has ever built a relationship with artificial intelligence.
Yet, ironically, under-investment in technology is probably the biggest threat to humans continuing to take the leading role in contact centres.
Using Technology to Bot-Proof Your Contact Centre
With contact centre workers acting as the front line of a brand's customer experience, technology is crucial to ensuring they have the tools they need to provide stellar service.
The right technology can make sure customers are connected to the right agent. Technology can match a customer to any agent anywhere in the world who's able to answer their query and cut down on wait times. Agents can have the full history of a customer's interactions with a company at their fingertips, so the customer doesn't have to repeat their query again and again.
For example, solutions like 8x8's Virtual Contact Centre and EasyContactNow enhance the great customer experience contact centre agents are able to offer by making sure customers are always sent to the right agent, with the right expertise, at the right time. By taking care of these basics, agents are freed up to let their unique human skills shine, while focusing on solving customers' problems.
Automation is undoubtedly here to stay. It's now a common feature in many parts of our lives–from helping us pay for our supermarket shopping and giving us directions through a smartphone to allowing us to check ourselves in at the airport. Contact centres will no doubt be affected by this trend and it's important they are part of this automation movement, rather than ignoring it.
While automation will eliminate very few occupations entirely in the next decade, it will affect portions of almost all jobs to a greater or lesser degree, depending on the type of work they entail. The successful contact centre of the future will harness the best of both the human and automated worlds to give customers the service and experience they want.
And contact centre agents?
They'll continue to be your organization's most valuable frontline representatives.