Why Every Company Needs a Virtual Business Phone System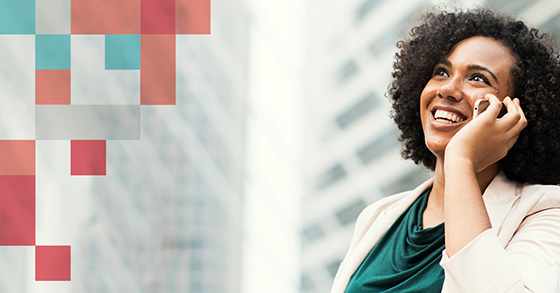 In 2020, business users expect tools and services they can interact with from anywhere and at any time. Customers expect the businesses they engage with to provide one system of engagement. This includes business telephone numbers, which have become untethered from physical business phones.
As new businesses launch and growing companies scale, the cost of traditional phone systems can be cost-prohibitive. Phone system hardware and upkeep are costly, especially true for new companies or companies experiencing new market growth
But modern, virtual business phone systems do more to empower users. They transform how businesses interact with colleagues, partners, and customers.
Virtual business phone systems with features like Voice over IP (VoIP) can help reduce costs across your business. They also make it easier to run your businesses, Small Business Trends reports. In this way, companies of any size can access world-class phone services in a cost-effective manner.
What Is a Virtual Business System?

Using VoIP, virtual phone systems convert voice signals from traditional phone wires. These systems then transmit them as data packets over Wi-Fi or mobile data connections. High-speed internet supports this process without disrupting the call. This allows allowing companies to reduce the cost of communication at scale.
"Transmission of voice signals over an internet connection is far cheaper than transmission on copper-wire." – MarTech Series, "10 Reasons to Ditch Your Old Office Phone Systems," 2019
Local customers can call a virtual phone number with the same area code cost-free. This applies even if the receiver is in another area code. The virtual phone number maps the customer's call to the recipient's actual phone number. The company pays a static, regular fee for the company-wide VoIP capability.
Virtual business systems offer huge advantages for both large and small companies. They relieve companies of high upfront infrastructure investments. They allow employees to use their own devices if they choose. This is critical as at least 50% of the U.S. population now works remotely. Companies can accommodate remote workers while keeping communication systems centralized. They can adopt virtual phone numbers for local markets, even when business users work elsewhere.
"Our company ... uses contractors and employees who frequently work out of the office. The thought of maintaining an on-premise phone system seems expensive. ... That's why, for the past ten years, we've been using a virtual phone service. Our service provides a toll-free number, dial by name directory, [and] and voicemail for all users including transcription and archive recordings."
Forbes, "10 Small Business Apps, Services And Tech Platforms Every Entrepreneur Should Know About," 2019
Virtualizing telephony gives companies access to more benefits. This includes minimal upfront costs and maintenance. It also includes special features like virtual receptionists, personalization and self-service functions. In this way, virtual phone numbers provide enterprise capabilities without the overhead.
Features of Virtual Business Systems
Small businesses need access to powerful communications capabilities to remain competitive. Meanwhile, large companies want to scale without heavy costs. They also want more capabilities, including localization and greater mobility for workers. Virtual business numbers provide mainstay phone features for both company types. They also provide special features. These include automated assistants, mobile apps, voice to email and collaboration tools. These features are only accessible to virtual business number users.
Leading VoIP features include:
Call routing: Call routing is a core function of virtual phone systems. Callers are digitally routed to a mobile phone, landline or another phone number of the user's choice
Sophisticated voicemail: Virtual phone systems offer more than recorded messages. They convert voicemails into digital files. Users can remotely access their messages via email or a connected mobile app. They have complete control over how their individual voicemail handles calls
Conference calling: Leading virtual phone number providers support built-in conference calling and even video conferencing. Users can access these capabilities from any location
Self-service: Individual users can adjust account settings and features themselves. They need not coordinate with a centralized team or gatekeeper. Companies don't need to adopt hardware to enable users to manage their own accounts
Automated features: Users can integrate automated features unachievable on traditional phone lines. These include virtual receptionists, which can manage calls on behalf of individual users. Users can also set up automated responses when they have scheduled vacations
Multi-device access: Each virtual phone number is not bound to a single piece of hardware. That means users can access phone system features from any location and on most devices. As Business News Daily describes in its 8x8 review, "Going global is a cakewalk with this. You can download the calling app, get a virtual phone number, connect your smartphone or any other data-driven device with Wi-Fi connection available nearby, and make easy-on-the-pocket international calls."
Consistent payments: Most services provide all features and phone numbers for a monthly fee. This is often a fraction of the cost of traditional telephony hardware and infrastructure
Other specialized features: Virtual phone number providers can update and add new features without replacing hardware. Their customers don't need to install new on-premises systems, either. Providers offer more specialized services as they manage companies' networks. For example, 8x8 provides a virtual phone number log report that identifies the sources of calls. This data can help companies with other business initiatives
Improving Employee Experiences
At 8x8, most of our customers have at least one virtual company phone number. They use it as a general channel for incoming calls. The number directs callers to an auto attendant. This tool directs those calls to users best equipped to manage each interaction.
But virtual numbers have other use cases your employees might value, as you'll see below. This is true no matter your business size.
Optimize Remote Work
Companies use virtual numbers to establish remote workstations. These workstations are accessible from anywhere. This empowers employees who wish to work off-premises. It also opens companies to new hiring opportunities if they choose. Meanwhile, these companies' customers can always access a real person. Salespeople can act on sales opportunities even when they are away from their desks.
Localize Marketing, Sales, and Attribution
As mentioned, virtual phone numbers allow companies to act locally. Marketers can even align virtual phone numbers with specific campaigns. This allows them to attribute leads or measure results using incoming call data.
For example, a brand headquartered in New York can localize virtual phones in its biggest U.S. markets. Workers appear local, even if they remain in the home office. Its marketing team can collect customer service and campaign data specific to those area codes. They only need access to the appropriate virtual numbers.
Personalize Telephony for Each Employee
Companies can optimize virtual phone numbers for each employee function. They can enable those employees to adapt their tools in ways that work best for them. Leading VoIP companies provide users with a mobile or desktop app to manage their individual accounts. They can adjust features per their individual needs as well.
Provide Better Customer Experiences
Some virtual phone number providers support for virtual phone number contact centers. These replace costly on-premises solutions. But individual virtual phone numbers empower their users when working with customers as well. Since virtual numbers work in the cloud, employees can access stored data from anywhere.
The Business Benefits of Virtual Phone Systems
"In the case of a hosted phone system, everything will be installed and maintained through your VoIP service provider. You only need to pay a fixed monthly payment for everything, including call services, hardware, and software installation, regular updates, and system maintenance. This is far more pocket-friendly than availing annual maintenance fees for your landline phone system."
MarTech Series, "10 Reasons to Ditch Your Old Office Phone Systems," 2019
Landline-based systems need on-premises software investments. They call for large hardware and software installation costs. They also involve a rigid infrastructure that is difficult to update or scale. Meanwhile, virtual phones are managed and don't require upfront software or hardware investment.
There is no limit to the ways providers can innovate for their customers. Companies wanting to go global, for example, achieve high returns with minimal investment. This is the case even when growing in new markets. Since companies already pay for internet service, the cost to connect is minimal.
Virtual phones are easier for providers to service as well. Providers don't need to access a specific piece of hardware. Users can update devices when one malfunctions or when they need to change phones. This prevents costly downtime. Administrators need not worry about hardware maintenance.
Virtual Business Phone FAQs
"8x8 is a reliable, cloud-based unified communications system that is easy to use and packed with valuable calling, collaboration, and mobile features and tools. That's why, after conducting extensive research and analysis, 8x8 is our 2020 pick for the best phone system for small businesses."
Business News Daily, "Best Business Phone Systems 2020"
At 8x8, we're prepared to answer all of your questions about virtual business phones. Contact our virtual phone experts today for more information or browse our FAQs and responses below. You will get quick tips to help you and your team visualize a virtual solution for your company.
What are my company's phone system needs?
You need a solution that is easy to adopt, launch and scale as your business evolves. This is true no matter your company size. You also need a dependable, cost-effective solution as you address specific needs. The solution should not penalize you when your business begins to grow.
Why are virtual phone numbers right for my business?
Small companies need powerful communications capabilities at the lowest possible cost. Virtual phone systems give small businesses professionalism and a competitive edge. For large companies, virtual phone number providers are a cost-effective, future-proof solution. They are a winning alternative to traditional phone systems.
How do virtual phone numbers work?
Virtual business systems are like business email aliases. They direct incoming emails to certain individuals or groups. This is like having more than one email address point to the same email account. Companies can have more than one 8x8 business number link to a single 8x8 Virtual Office Desktop or 8x8 Contact Center account.
Where are virtual phone numbers available?
8x8 provides virtual numbers across 50 countries, local and international, including the U.S. and Canada. This is ideal if you want a virtual presence in a given geography. It's also ideal for reducing the costs of calls in specific areas. Virtual phone numbers reduce costs for global companies as well.
Are virtual phone numbers reliable?
Virtual phone numbers are available as a service. That means your provider can maximize network security without an upfront investment. That way, your virtual phone numbers are as secure as your company's internet network.
How do I choose the right virtual phone provider for my company?
Start by taking stock of your specific telephony needs. Focus on your long-term business goals. Identify the unique features that will help with specific use cases. Then, talk to our experts about opportunities with 8x8. We'll answer all of your questions. If you're ready to get started, try a no-risk 30-day trial of 8x8 Express, a powerful phone system built for smaller businesses.
8x8 Express: Make the Right Impression
Get the easiest and most affordable phone system for your small office or home-based business. 8x8 Express provides you with unlimited calling, HD audio and video conferencing, business SMS and more. Start your free 30-day trial today!