Who's Your Company's Best Friend? 5 Ways 8x8 Gives Fluffy a Run for the Money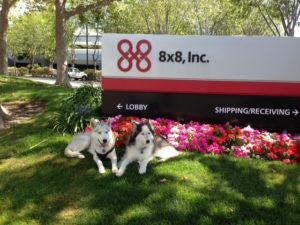 Move over Scruffy! You've got competition. Dogs may be man's best friends, but 8x8 business phone service could be your company's best friend. Here are five good reasons why.
1. You can trust 8x8 to look out for your company's best interests.
Our customer service representatives keep customers' best interest in mind as they work to answer questions and meet your company's needs. "There was something about 8x8 I trusted," says Tamika Gravesandy, owner of Freedom Nation Tax Services. "When I spoke with my representative, he gave me a sense of trust and comfort. These traits alone were what lead me to go with this company."
2. 8x8 is ALMOST as good as Fido at making you smile.
Despite their constant hard work, representatives always maintain a cheerful tone and a helpful attitude. And the savings will make you happy, too. "When I think of how much money I have saved in the past three years from not having to locate service technicians to upgrade or modify equipment, I smile," says Tim Heavers, executive director of the Montrose County Housing Authority.
3. 8x8 will also follow you to the ends of the Earth.
Few companies can claim to offer world-class VoIP service, across the globe. Fewer still can claim they are versatile enough to be used internationally at such reasonable rates. "8x8's mobile app and portable phones let us take calls anywhere and everywhere," says Damian Brennan, CIO at Artco Group. "And I had sales guys who used to come back from China with $6,000 mobile phone bills. Not anymore, not since we went with 8x8," he says.
4. 8x8 sticks by you in emergencies, too.
How many companies can claim they rival our canine friends in dependability in a crisis? Kenneth Pope, a mortgage banker at Gladewater National Bank, says dependability is one of the first things that come to mind when he thinks of 8x8: "Dependability, capability, and versatility! "
8x8's Business Phone Service has mirrored servers ringing the globe, to help its customers up and running even if one server goes down. This gives customers peace of mind knowing that their phone lines will stay connected when they need it the most. "I am glad that we have 8x8 to rely on–and that is what I do: rely on it," says Michael D. Creger, the client relationship manager at the Bank of Cardiff.
And while Spot the Dalmatian may be able to rush into a fire after you, he doesn't provide the capability to keep phones up and running. 8x8 Business phone service, on the other hand, helps customers to stay connected in crises.
"Being on the Gulf Coast, it is important for us to give service to our customers in the event of a Hurricane or weather event," says Susan Taylor of Craig Insurance Agency. "With our business VoIP system, we can literally pick up our telephones and hook them to a computer anywhere, or use our cell phones, and we are back in business. A phone call never has to be missed.
5. Pet lovers love 8x8, too—especially for its go-anywhere capabilities.
Just ask customers like Linda Allison, managing member of Precious Pets Transportation. The company does pretty much what you'd expect, with a name like that, so its workers are used to being on the road. Linda's experience explains why we've become the go-to unified communications provider for businesses on the go.
"As we were driving all over the country, it was wonderful to never miss a business call; our office was in whatever van we were driving at the time," Linda says of the early years. "Ten years later, the phone was ringing nonstop. It was time to get [our phones and communications] off our hip and into a real office. The main number rings into our office in Virginia. Our sales person lives and works in Pennsylvania. Since I am almost always on the road, I can get my calls whether I'm in Virginia, Maine, Washington, or California. Our business is now grounded, but yet still portable when needed."
Eric Udler, president of All Show Services—which puts on Super Pet Expo—agrees. He's had 8x8 service for eight years. That's 56 in dog years. "When it comes to business telephony solutions,"8x8 is the leader of the pack. And that's a fact!," says Udler. For more on how your 8x8 business phone service can also be your company's best friend, visit www.8x8.com.