Win More Customers by Integrating 8x8 with WhatsApp and Salesforce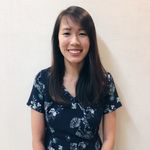 Choon Khee Koh
January 11, 2022
Every business should know that WhatsApp is currently the most popular mobile messaging application in the world with two billion monthly active users in over 180 countries. With its ability to allow users to send rich content in real time, businesses have increasingly leveraged WhatsApp in their customer communications. From tracking deliveries to providing personal movie recommendations to receiving instant customer feedback, WhatsApp has become a critical part of the customer experience.
WhatsApp may be the king of mobile messaging, but Salesforce is the king of customer relationship management (CRM). In fact, Salesforce is the world's number one CRM; it boasts a 19.8% share of the CRM market and is used by more than 150,000 businesses. With Salesforce, businesses have a single platform to seamlessly manage customer relationships. Whether it's tracking customer activity across every channel, resolving customer issues, or increasing agent productivity, Salesforce empowers businesses to connect with customers in powerful ways.
Simply put, combining the forces of Salesforce and WhatsApp is truly a game changer for business communications. It is thus not surprising that 8x8 supports the Salesforce and WhatsApp integration, through the 8x8 Chat Apps API. Let's dive deeper into the features of the integration, and how 8x8 takes it one step further.
Customer support made easy
The goal of the Salesforce and WhatsApp integration is to enhance the customer experience by empowering customers to reach you conveniently, right on their WhatsApp mobile app.
You will be able to interact with customers via WhatsApp in two ways:
1. Customer initiated conversations
If a customer contacts your business directly over WhatsApp, your customer service agents can attend to their queries directly in the Salesforce Service Cloud console, or automate a series of responses using Salesforce Einstein.
2. Pre-approved notifications
You can also start a conversation with customers using WhatsApp pre-approved message notifications for payment confirmation, order status, business updates, order cancellation updates, and more. Businesses need to receive prior approval for these messages. WhatsApp allows every business to design up to 250 message templates, and it takes a maximum of four business days for WhatsApp to review and approve them. Once they have been approved, you can start sending these notifications to your customers. If the customer replies to a notification, they can use the same WhatsApp thread to chat with your customer service agent.
In case you're not aware, WhatsApp requires customers to consent to receiving messages from you using an active opt-in. This means that it must be triggered by a user action, such as entering a phone number or checking a box to indicate consent. If the user initiates the conversation, no opt-in is needed and you can reply to the user.
Take customer experience to the next level
With the Salesforce and WhatsApp integration, businesses can have a direct communication channel with customers—on a platform that is already used frequently by the customer. Other benefits of the integration include:
Rich, engaging conversations:

Send and receive rich content, including emojis, link previews, and map locations. You can even drag and drop media, such as images and documents, right into the conversation.

Support your customers effortlessly:

Salesforce allows you to automate your replies and send messages from templates, as well as automatically assign agents to queries. These features improve engagement while reducing the time spent on customer support, thus improving agent productivity and freeing up your team for more complex cases.

Improve business outreach:

Tap into a huge pool of potential customers by integrating the most popular messaging app and allow customers to interact with you through their favorite app. Also, break country-to-country texting barriers.
Revolutionize your communications with the 8x8 Chat Apps API
Understanding the importance of the Salesforce and WhatsApp integration, 8x8 offers a WhatsApp Business API as part of the 8x8 Chat Apps solution, so you can integrate WhatsApp seamlessly and easily. However, we offer more than just the ease of integration by adding a layer of powerful capabilities with the 8x8 Chat Apps API. You get access to popular messaging apps such as WeChat, Viber, Facebook Messenger, and Zalo using a single API. With the 8x8 Chat Apps API, you can seamlessly manage communications between WhatsApp and other channels automatically, so there is no disruption to your current workflows.
Here are other ways you can enhance your communications when you access the Salesforce and WhatsApp integration through the 8x8 Chat Apps API:
Smart retry of undelivered messages:

Undelivered messages are rerouted to another chat app or even SMS to ensure guaranteed delivery

Real-time access to data:

Leverage the power of performance analytics, such as message bounces, open rates, and delivery rates

Marketing campaigns with zero integration:

Send promotional messages or large-scale, recurring notifications through WhatsApp with 8x8 Connect

Increased agent productivity:

Streamline your processes with a single consolidated dashboard of all customer conversations

Going beyond Salesforce:

Use the same WhatsApp account seamlessly on multiple different platforms, be it Zendesk or 8x8 Connect, through a plug and play integration
How does it work?
Let's say a customer starts a conversation with you through WhatsApp. The new WhatsApp chat creates a record in Salesforce and is assigned to an agent. Agents will be able to see the messages and images sent by the users on Salesforce, and they can respond directly in Salesforce. Once the conversation is finished, the agent can end the conversation and the chat history is saved as a chat transcript and attached to the customer record for reference.
Watch our video for a demonstration of the Salesforce and WhatsApp integration done through the 8x8 Chat Apps API.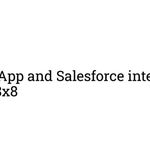 Prerequisites for Salesforce and WhatsApp integration
Before you get started, here is what you need:
Lightning Experience or Salesforce Classic in the Enterprise, Performance, Unlimited, or Developer editions
A Digital Engagement, Service Cloud, and Chat user license
A verified Facebook Business Manager account
See the documentation for more information on how to set up the Salesforce and WhatsApp integration.
It's time to engage more customers
Are you ready to expand your reach and open new channels of conversations with your customers? Contact us at hello-cpaas@8x8.com to access the Salesforce and WhatsApp integration through the 8x8 Chat Apps API.
---