What we learned at Enterprise Connect!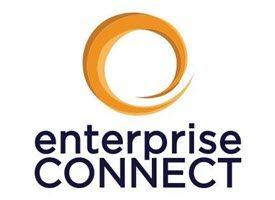 Last week at Enterprise Connect in Orlando, we surveyed more than 200 attendees to uncover their use of team collaboration tools and their thoughts on contact center solutions. We asked a random selection of show attendees four key questions:
How many chat and team messaging apps do you use at work?
Do any functional teams in your organization have a need for basic contact center functionality?
What types of capabilities do you believe are important in a contact center solution for teams?
What worries you most about having communication services in the cloud?
…and the results were interesting.
We can't agree on messaging apps. More than 73 percent of the survey respondents confirmed that they use two or more team messaging apps at work. It turns out that 13 percent are using four or more! This is something we suspected considering the pace at which the team collaboration market is growing. New team collaboration platforms are introduced every day and none have been designed to interoperate with each other. Combined with very little corporate governance, enterprises are faced with fragmentation and information siloes. Despite the best efforts of these tools to increase worker productivity, the fragmentation and disparate systems ironically make cross-team collaboration, both inside and outside the enterprise, more difficult. You can read about our solution to this problem here.
The help desk needs help. When asked which functional teams in the organization have a need for contact center functionality, sales and marketing came in at almost 60 percent followed by the help desk at 49 percent. Customer satisfaction is a big part of every successful business and this requires contact center capability. Companies with informal and non-traditional contact centers have been under-served to fulfill this promise. Non-traditional teams with internal and external customers need solutions with the simplicity, ease of use and affordability modern teams expect. You can read more about what we offer for teams in need of contact center solutions here.
It's all about ease of use. When it comes to the most important feature of a contact center solution, an easy-to-use interface took the lead in our survey results (62 percent). It's important for users to feel comfortable interfacing with the tool they are required to use for work. The ability to customize a contact center solution for each individual user can improve response time, productivity and most importantly customer experience. Other important features, according to survey respondents, are easy configuration (50 percent), powerful engagement tools (50 percent) and call monitoring and recording (49 percent).
We have cloud concerns.  One of the most interesting findings from the survey comes down to security. When asked about their biggest worry with hosting communications services in the cloud, the majority of respondents said security. This is the same concern conference attendees had when we asked the question last year. When evaluating a communications cloud provider, customers should make sure they meet their stringent security and compliance requirements.
The big takeaways from our Enterprise Connect survey are the need for interoperability among team collaboration apps, and contact center solutions that are suited to meeting the needs of informal teams outside of the contact center—such as sales, marketing, collection, HR and help desk. We're excited to see that 8x8's solutions are at the forefront of solving some of these challenges.