What SMB Owners Can Teach Enterprise about Cloud-based Business VoIP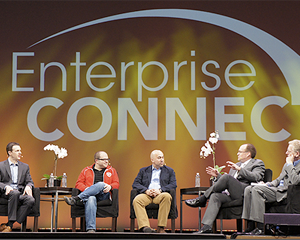 "Cloud-based Communications: Opportunity, Threat or Yawn?" That was the question put to me and other industry panelists at the Enterprise Connect conference this week in Orlando.
The other panelists all seemed to acknowledge that cloud-based communication and collaboration has "caught fire" in its popularity with small and medium businesses (SMBs).
The Cloud Cuts Costs—But That's Just the Beginning
They all conceded that the superior economics of the cloud, which makes it possible for 8x8 to use a single server—with all the redundancy, speed and software "bells and whistles" imaginable—to provide communications to more than 1,000 customers at a time. That's what makes it possible for us to offer service for our customers starting at under $25 per month.
But it was clear from their remarks that my fellow panelists thought that most of the draw for SMBs is the low cost of service. Of course, as any entrepreneur or small business owner can tell you, cost is always a consideration in a very deep, personal way; if you can't make the economics of your business work, it's a failure.
And it's also true that large enterprises have options that are beyond the reach—or even the interest—of most start-ups and small-but-growing businesses. Cost, therefore, remains an issue for them, but enterprises are in a position to spend to get greater value, if it makes good business sense.
SMBs Teach Enterprises How to Be Faster, More Flexible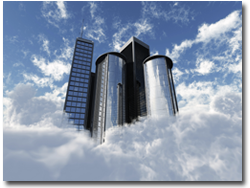 But now, enterprises are starting to realize what our SMB customers have already learned: Cloud-based communications can "speed integration"—the term of art in the enterprise world—among many of the applications and technology that enterprises use as standalone applications, usually in premises-based data centers. For SMBs, this has meant fast, reliable hosted VoIP communications that can be turned on at the drop of a hat, and that integrate with existing e-mail and other Internet services.
These enterprise customers—like their SMB counterparts—are looking for something more flexible and quickly deployable than what they already have.  They want that same quick, easy service start-up, which the Cloud now makes happen in seconds or days, not months or years. On balance, they are starting to look beyond the security myths being propagated by on-premises providers, and are discovering the functionality, feature set, mobility, flexibility, and security that the Cloud offers.
SMBs Weighed in at the Tipping Point
It was really the early adopters that first saw the light behind the Cloud and made us the leader in hosted business VoIP, according to Frost and Sullivan. But just in the last year, we've seen a real change in the tenor of the debate over cloud-based communications. I think the pivotal event was seeing how successful Salesforce.com has been in providing cloud-based CRM.
Today, everyone accepts that that their CRM can be accessed from the cloud, and enterprises no longer require that their CRM has to be on-premises. So now enterprise leaders are making the connection that their CRM is already up there, their communications are delivered over the cloud, and they're saying, "I want to take a business call on my mobile phones if I'm in my office—which works over the cloud—and I want to update that CRM record right now, not later. Why should I have to open up another browser for that?"
Why, indeed? Communications and networking are really the original cloud-based services. If your CRM system is in the Cloud, too, shouldn't they talk to each other?
This is all part of 8x8's vision for cloud-enabled business phone service and hosted VoIP communications.  Already, 8x8 offers a VoIP call center service for our customers that integrates with our hosted VoIP phone service.  It handles the functions that enterprises want from call centers, including things like reporting and metrics tracking, as well as features that help with compliance and security. And we integrate out of the box with nearly a dozen popular CRM, ERP, messaging and e-mail clients. No more professional services!
And we can do these things over the cloud as well, if not better, than expensive on-premises systems like those that currently exist in many large enterprises.
Our growing customer base is making it increasingly tough for enterprises to accept the old argument that vendors of yesteryear technology often make, which goes something like this: "Just keep your old enterprise phone and be happy that what you have still works for placing calls. Forget about all the other things your phone could be doing for you."
Enterprises never wanted to accept that argument in the first place. The difference is, now they have a choice, and they know it.