What Retailers Need to Know to Stay Relevant with Consumers & Lower Costs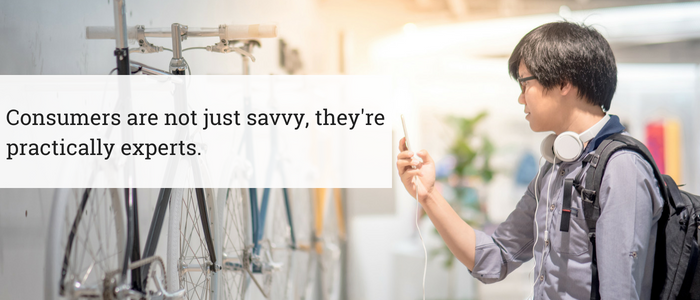 We continue our blog series on emerging trends and challenges affecting consumer and retailer behavior. Two key areas that we see retailers challenged (and want to help on) are creating an omnichannel experience with the use of communications technology and how to stay ahead of customer expectations.  According to a 2017 Internet Trends report by Kleiner Perkins and Mary Perkins, 82% of consumers stop doing business after one bad experience. How can retailers keep up with the pace of not only technology but consumer expectations? Let's dive into these topics below along with our solutions to these challenges.
How Can Communications Technology Help Us Create an Omnichannel Experience?
Many retail organizations have expansive, yet disparate, digital interaction technologies, which sit within their eCommerce, IT, contact center, or customer service groups. However, communications within each store are largely disconnected, providing little collective insight into the customer experience and taking extra effort to service and maintain.
Things to consider:
Can you achieve consistency through consolidation? A common system of engagement can unify business communications, in-store communications, and contact center communications, meetings and collaboration, providing employees with the capabilities they need to deliver a more responsive, personalized experience across any channel.
How can you design your customer journey as a consistent, value-producing path? Instead of piecing together the dozens of interaction applications in order to build a rough sketch of the customer journey, a common platform can identify how customers are engaging with your brand across the contact centers and stores. When that platform connects into your CRM, it provides a layer on additional context that not only explains what a customer did but also why and what is likely to happen next.
Are you ready for Gen Z? Just as we're getting over using "Millennial" as a theme/focus for everything from advertising to social research, here comes Gen Z with their categorically different perspective and behavior. To remain relevant to this emerging generation, a retailer needs to update their brand experience to be personalized, authentic, instantly accessible, and consistent along the entire buyer journey. (See more on this topic in my post devoted to Gen Z here.)
How Can We Maintain the Speed and Agility to Stay Ahead of Customer Expectations?
Both executives and investors expect fast results, meaning weeks or months rather than years. Likewise, customers expect you to adjust to meet their needs as newer technologies become more mainstream and the expectation of fulfillment goes from weeks to days to hours. Being able to manage your digital transformation while incorporating new interaction and eCommerce channels, opening new locations, and providing customers with timely responses requires technology that can move at a digital pace, without requiring upgrades or hardware replacement.
Things to consider:
Are your current systems stifling growth? What we often see is retailers deploy two phones lines per store (or some other very small amount,) which limits customer conversations to just two or less at a time. During busy periods, this means customers can't get through and requires additional service and configuration if and when you need to expand. Moving to a cloud-based platform provides the required agility and faster ramp-up time, whether adding a new location or additional staff.
How quickly can you adapt to change? Changing store messages, routing customers, and even announcing promotions is a painstaking process for an on-premise system. But cloud-based solutions can make these changes fast, without any local support, and across your entire footprint.
While even the most innovative retailers are finding it difficult to predict the next wave of consumer shopping preferences, they realize that when investing in technologies that provide flexibility and agility today, they need to ensure they also provide future-proofing and the ability to maintain relevance later. The key is to understand which processes and systems are holding back potential business, so you can invest efforts into meaningful, frictionless experiences for your staff and your customers. Given the importance of communications, investing in a modern communication system should be high on every retailer's to-do list.
And we leave you with this infographic titled "Five retailers show the way to smarter communications". We talked with our 5 of our retail customers: Mattress Firm, McDonald's, Macaroni Grill, Town Fair Tire and GameStop. They shared with us (and you) great insight on their challenges and how they overcome them by having one system of engagement that can drive tangible business outcomes.
View the infographic below and contact a solutions expert to learn how 8x8 keeps retailers connected and collaborating.