What Do You Get When You Cross Your CRM System With Your Phone System?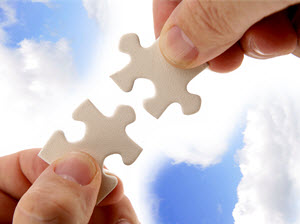 No, it's not a joke, and there is no punchline. But there is definitely a payoff for companies that combine several powerful cloud solutions for a synergistic effect, says Infonetics analyst Diane Myers. And with some cloud vendors combining forces to create solutions that automatically and instantly work together—such as cloud communications provider 8x8 and CRM companies Salesforce and NetSuite—subscribing organizations don't really have to do much of anything, just reap the rewards.
How to Combine Capabilities to Improve Impact
"We've seen other types of services already move to the cloud, like Salesforce.com and DropBox. Now businesses are asking, 'How can I start to marry these capabilities?' [Businesspeople are] analyzing 'How can we use this to make more effective business decisions?'"
What You Can Do with Big Data is Huge
Here's a thought:  When it comes to communications, "what we can do with Big Data is huge," say Myers, who recently ranked 8x8 as the #1 Cloud Communications company, in part because of a service offering that includes an analytics package that uses Big Data like no other provider.
Organizations that use such analytics can get data on many aspects of communications usage, network health and customer service metrics.
First Step: Cloud Communications + CRM
"But sadly, many companies aren't even fully utilizing the cloud software they already have," says Myers.
"It's amazing how many companies still haven't married their phone system with their CRM," she says. Companies that don't at least take advantage of such pre-integrated packages are missing a huge opportunity, according to Myers.
Advantages of using CRM-integrated cloud systems include instant recognition of a caller, as the communications system or contact center software matches the incoming phone number with records stored in the CRM system. Whoever answers the phone—whether they're in sales, support or customer service—can see this information and quickly see previous customer contacts and their resolutions.
It's a powerful technique, and companies that go this route find that it's a great boost to repeat sales and happy customers. For example, iCruise—a travel company whose corporate parent is WMPH, for "We Make People Happy"—uses CRM integration with its 8x8 Virtual Office phone system and Virtual Contact Center, for more effective customer relationship building.
Now when customers contact iCruise. com, call details such as the city, phone number and the ad that spurred them to call—identifiable from the virtual number listed in each ad— are captured and passed to the CRM system. The data can then be used to measure the effectiveness of the company's marketing efforts. "We're much better able to track our sales leads and figure out where to spend our advertising dollars," says Uf Tukel, co-president and founder of the company.
Why Shouldn't ALL Your Cloud Software Work Together?
As Myers indicates, many companies are just getting started combining the capabilities of their cloud providers. When you think about it, it makes sense: If your communications and contact center software are in the cloud, and your CRM and other cloud software is in the cloud, why shouldn't they all talk to each other?