What 8x8's Virtual Contact Center Ventana Leadership Award Means to You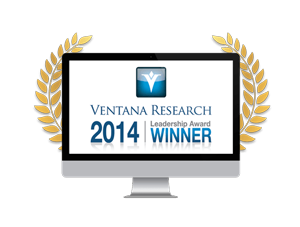 In a nod to a customer-service revolution underway, Ventana Research has presented a coveted 2014 Business Technology Leadership Award to 8x8 Virtual Contact Center and one of its most innovative customers, a multi-location human resources outsourcing organization.
"Congratulations to 8x8 for your Technology Leadership Award in the category of business and social collaboration," said Mark Smith, CEO and chief research officer at Ventana Research. "The importance of helping organizations collaborate in dialogue with their customers is essential to the success of every organization, and your continued investments in interactions is exemplary."
8x8 Win Signals Huge Changes in Enterprise Strategy and Customer Relations
8x8 is happy to share in this award with our valued customer. After all, Ventana Research runs the largest business and technology leadership awards program in the industry. But we also think that this award has significance to enterprises worldwide for what it says about the direction that customer service is taking. Customer service used to be a department; now it's a strategic goal for many companies hoping to differentiate themselves, their products, and their brands.
8x8 Omni-channel Customer Service Replaces Old One-trick Call Centers
Today's customers are demanding service on their terms—using chat, email, phone calls, video and social media to contact companies—and on their schedules. That's what's pushing companies to adopt cutting-edge responses, like omni-channel cloud communications and customer-requested queued callbacks.
One-trick Call Centers Are Dead—Long Live Customer Service!
These technologies are transforming the way companies foster ongoing relationships with their customers, as many enterprises leave old inflexible technology that only handle phone calls, in favor of ready-made links with customer relationship management (CRM) software that makes it easy to track customer contacts over time and in a very real sense, get to know and understand them better.
Part of the reason Ventana judged Virtual Contact Center to be such a leader in developing new technology is the way it makes it easy for companies to handle customer contact across the enterprise, and across all of the channels that each customer might use to contact the companies at which they do business.
So often, companies doing business the old-fashioned way can't tell when a customer calls that the very same customer has already emailed and perhaps initiated a Web chat. Also, the speed at which companies can establish new contact centers will have a huge impact on all enterprises as they grow and go global, but especially on business process outsourcing (BPO) companies.
In particular, for BPO companies—many of which are 8x8 customers—it's absolutely critical to build a consistent telephony and agent environment across the entire enterprise. Everybody realizes that for these companies, putting standard procedures and processes in place for efficient on-boarding of new customers and rapid training of agents is a huge competitive advantage.
But real truth behind this award is even deeper. I think that building consistent, great customer relationships has to be part of any company that competes successfully in today's global marketplaces.
Old School Approaches are Stifling
Many organizations don't realize what a stifling effect that old-school approaches to IT and communications can have. Every time a customer has to endure a long wait, retell a story over and over again through multiple agents and multiple transfers, the relationship suffers—or maybe even ends, if customers become totally fed up and vote with their feet.
And most businesses are only just starting to realize the huge costs of building and maintaining physical call centers built on yesterday's customer service models: hardware costs, continuing consulting fees every time changes are necessary, the costs of beefing up the security and compliance of a solution on their own premises.
Omni-channel Approaches Work—And Can Be a Competitive Edge
That's part of what this award shows: The decision to build processes around a cloud-based solution like 8x8 Virtual Contact Center works. The flexibility and speed of implementation that the cloud enables can become a huge differentiator for most companies, and is a model other organizations can follow to revolutionize and grow their own businesses.
To learn more about 8x8 Virtual Contact Center, click here.