Welcome to the New Analytics-Driven World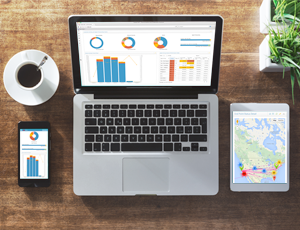 I have always been a highly organized person who would track every single expense in each category so that at the end of the month I could get a final analysis of all my spending—food, housing, utilities, clothes and travels.  Certainly, this strategy served me well for a long time, but it was also time-intensive and was more limiting than I knew—since I was mostly just tracking major expenses.  As we have all learned, those small payments add up over time. And after awhile, I saw that sometimes all those insignificant, one-off expenses that I wasn't considering were generating a bigger impact to my bottom line.
But today, I get access to all this information from my bank and credit card companies without the need to spend time manually creating a spreadsheet. Today's analytics provide all the necessary information, even those insignificant details. I can monitor my finances by month, quarter or year and then compare them to previous years, and even classify them by type, such as gas station, groceries, restaurants, bars, cable, phone, etc.
The stakes can be even higher in business—especially if they only have a partial view of reality. Organizations do not always have all of the vital information, but are making critical decisions based on a few facts and finite amounts of data. So what if every business could have all the essential details during the decision-making process? How impactful could that information be to the outcome?  Perhaps mission-critical, in some cases.
Decision-Making Managed By Value
Approximately 49% of CIOs assert that analytics is a great tool for decision-making. Analytics were one of the fastest growing technology trends last year and will continue to grow as businesses recognize the core value of analytics and correlation to their bottom lines. Business analytics showcase the complete behavior of your company, employees and services – to finally monetize it into real financial gain. And there is nothing better than a perfect dashboard that gives us the intelligence we need to make the most informed decisions about our business.
We live this daily at 8x8. We help businesses of all sizes make faster decisions, well informed decisions based on critical information about a company's performance. And all of this through simple web-based tools that provide enterprise-level analytics. The 8x8 analytics suite for business telephony delivers sophisticated, yet easy-to-use, customizable insights into the historical and real-time information associated with all extensions and devices inside an organization.
I recall one customer talking about his customer erosion issues and that it was too difficult to track what his main problem was. However, he was certain that his customers were complaining about not receiving answers on time and calling several times before getting a final resolution. This is just an example of a simple situation putting you on the path of a potentially significant long-term financial loss. Every business needs the precise insights at the precise time so you can stay informed and take critical action when needed.
For example, do you know how many of your calls are being returned? What if customers are calling to close a deal or submit a support issue? You can understand more about your business and employee performance by getting real-time facts like the ones in the above example, as well as categorizing them by device, user, department and site to get every last detail to better understand where to direct your focus and make key improvements. 
Can Cloud Companies Help Customers Gain a Competitive Advantage?
Analytics is not only about understanding your own business, but also about how your customers perceive your service. For instance, many cloud companies offer communications services to a variety of customers. As with any service, sometimes th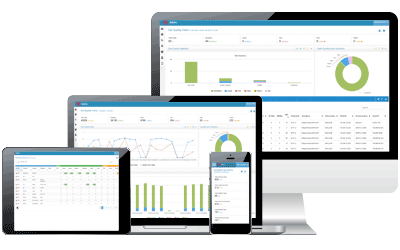 e quality isn't what's expected and customers call back due to voice quality issues or because specific applications are not working. Typically a provider may review their internal information, but they don't have visibility into the customer's network or internet connections. In other words, they don't know what they don't know in some scenarios! Consequently, most of our competitors in cloud communications are not able to provide a network uptime and SLA guaranteeing end-to-end service uptime, reliability, and call quality over any network customers use—broadband Internet or an MPLS link.
At times they might provide a network uptime that will not have SLAs, but in other cases, they can't even commit to customers at all. How can they understand the service quality of their customers' calls, end points, connectivity and locations if they cannot measure it? At 8x8, we've gone a couple steps further to monitor and understand real-time internet quality. This enables us to provide superior service, a personalized experience, as well as unmatched service and quality SLAs.
The Big Picture
8x8 helps customers understand their aggregate business performance by using powerful analytics to improve productivity and to analyze the behavior of queues, ring groups and service performance in general (Mean Opinion Score, geo-location maps, end points, site and user quality).
Don't start down the road of making uninformed, fact-less decisions. Using analytics across your business will help you generate powerful insights so that you can make fact-based decisions that will drive your topline strategy and improve your business costs and efficiencies.
Our daily world is converging into a sea of bright colors, graphs and charts—everywhere from our financial statements, phone bills, data usage, water consumption, utilities and more. Everything today is summed up in a dashboard.  We are clearly in the midst of a new era of analytics, and in business, we have never been more dependent on them.
After all, there's nothing better than a highly informative dashboard that streamlines data, points us in the right direction, and makes us look and act more intelligent so we can help drive strong business strategies and value.