We Won What? 8x8 Earns Frost & Sullivan Customer Value Leadership Award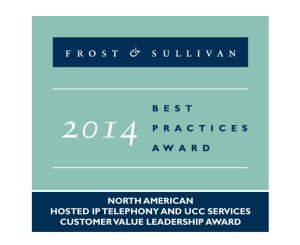 What does Frost & Sullivan's Customer Value Leadership Award mean? I was curious when I learned that 8x8 would receive it this year. 8x8 has earned many Frost & Sullivan awards over the years—for things like "#1 Provider of Hosted IP Telephony" and "#1 Market Share Leadership." But this latest title is a mouthful, so at first, I couldn't help but wonder which of our strengths Frost & Sullivan was focusing on in making its award decision.
A Simple Idea—It's All About Your Customers
I've read the report now, and the best way to sum it up is Frost & Sullivan's observation that "8x8 is well ahead of its competitors in enabling businesses to better serve their customers."
Frost & Sullivan Program Director Elka Popova expanded on the idea, when she said, "By providing a one-stop shop for a broad set of capabilities, 8x8 enables business customers to eliminate the cost and hassles associated with deploying, integrating and managing disparate multi-vendor technologies."
But I like the shorter version better. We can talk all day about 8x8's "demonstrated excellence in implementing strategies that proactively create value for its customers with a focus on improving the return on the investment," as Frost & Sullivan puts it. But what matters to our customers the most is whether they're able to better serve their customers.
It's easy to make the case that that's all that matters.
A Single Focus—Seen Through Many Different Lenses
Of course, a lot of things go into being able to make that claim. For instance, we've got the flexibility to help our customers scale up or down at a moment's notice—and can make a business case with compelling savings over old-style PBXs. We've got mobile apps and unified communications that help our customers tie together workers across the country or the globe. And of course, we've achieved enterprise-grade reliability, security and compliance that are the envy of the industry.
We're extremely pleased at all the work that Frost & Sullivan has done to document why we won its Customer Value Leadership Award. But we at 8x8 want all of our customers and stakeholders to know that we understand our value to you. It all comes down to whether we do a great job in helping your business do right by your customers, so you can earn new and repeat business. In addition, we must continue to do it all in a way that fits the budget and goals of your organization.
We promise never to forget that. Get the details here and download the Frost & Sullivan report.